This recipe was clipped from a newspaper and found in a large collection, date unknown. I've typed it below along with a scanned copy.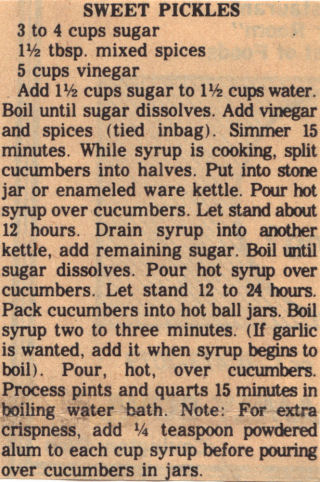 SWEET PICKLES
3 to 4 cups sugar
1 1/2 tbsp. mixed spices
5 cups vinegar
Add 1 1/2 cups sugar to 1 1/2 cups water. Boil until sugar dissolves. Add vinegar and spices (tied in bag). Simmer 15 minutes. While syrup is cooking, split cucumbers into halves. Put into stone jar or enameled ware kettle. Pour hot syrup over cucumbers. Let stand about 12 hours. Drain syrup into another kettle, add remaining sugar. Boil until sugar dissolves. Pour hot syrup over cucumbers. Let stand 12 to 24 hours. Pack cucumbers into hot ball jars. Boil syrup two to three minutes. (If garlic is wanted, add it when syrup begins to boil). Pour, hot, over cucumbers. Process pints and quarts 15 minutes in boiling water bath.
Note: For extra crispness, add 1/4 teaspoon powdered alum to each cup syrup before pouring over cucumbers in jars.
Please read the Safe Canning & Food Preservation section if planning on canning this recipe.
More Recipes For You To Enjoy: