This recipe was clipped from a magazine that was published in 1958. I've typed it below along with a scanned copy.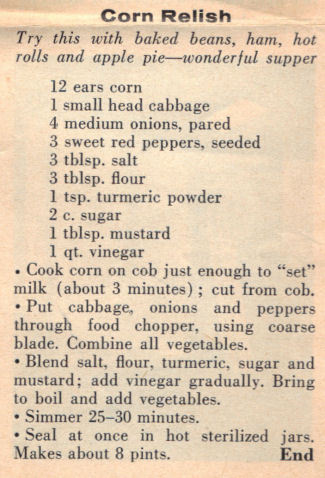 Corn Relish
Try this with baked beans, ham, hot rolls and apple pie–wonderful supper
12 ears corn
1 small head cabbage
4 medium onions, pared
3 sweet red peppers, seeded
3 tblsp. salt
3 tblsp. flour
1 tsp. turmeric powder
2 c. sugar
1 tblsp. mustard
1 qt. vinegar
Cook corn on cob just enough to "set" milk (about 3 minutes); cut from cob.
Put cabbage, onions and peppers through food chopper, using coarse blade. Combine all vegetables.
Blend salt, flour, turmeric, sugar and mustard; add vinegar gradually. Bring to boil and add vegetables.
Simmer 25-30 minutes.
Seal at once in hot sterilized jars.
Makes about 8 pints.
Please read the Safe Canning & Food Preservation section if planning on canning this recipe.
More Recipes For You To Enjoy: