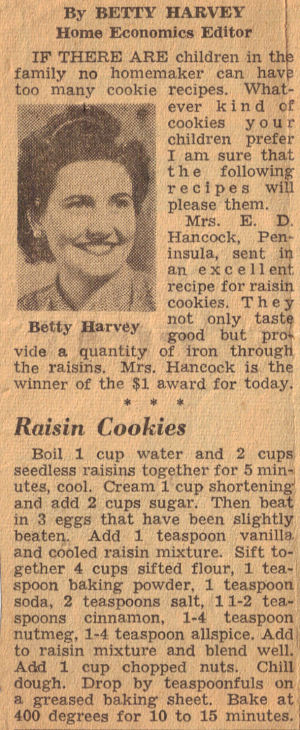 This recipe is 1 of 3 cookie recipes printed in a newspaper column written by Betty Harvey, date unknown. I'd guess this was printed in the 1940's or 1950's based on the picture of Betty and information on the back of the clipping. Recipe is typed below along with a scanned copy (some info at the bottom of the recipe is not included in the scan since it's on the next column).
By BETTY HARVEY
Home Economics Editor
IF THERE ARE children in the family no homemaker can have too many cookie recipes. Whatever kind of cookies your children prefer I am sure that the following recipes will please them.
Mrs. E. D. Hancock, Peninsula, sent in an excellent recipe for raisin cookies. They not only taste good but provide a quantity of iron through the raisins. Mrs. Hancock is the winner of the $1 award for today.
Raisin Cookies
Boil 1 cup water and 2 cups seedless raisins together for 5 minutes, cool. Cream 1 cup shortening and add 2 cups sugar. Then beat in 3 eggs that have been slightly beaten. Add 1 teaspoon vanilla and cooled raisin mixture. Sift together 4 cups sifted flour, 1 teaspoon baking powder, 1 teaspoon soda, 2 teaspoons salt, 1 1-2 teaspoons cinnamon, 1-4 teaspoon nutmeg, 1-4 teaspoon allspice. Add to raisin mixture and blend well. Add 1 cup chopped nuts. Chill dough. Drop by teaspoonfuls on a greased baking sheet. Bake at 400 degrees for 10 to 15 minutes.
Makes about 5 dozen cookies, depending on size.
More Recipes For You To Enjoy: