This is a recipe pullout card from Family Circle magazine that was published in 1966. I've typed it below along with a scanned copy of both sides.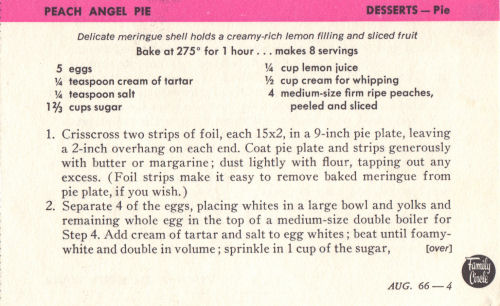 PEACH ANGEL PIE
DESSERTS–Pie
Delicate meringue shell holds a creamy-rich lemon filling and sliced fruit
Bake at 275° for 1 hour…makes 8 servings
5 eggs
1/4 teaspoon cream of tartar
1/4 teaspoon salt
1 2/3 cups sugar
1/4 cup lemon juice
1/2 cup cream for whipping
4 medium-size firm ripe peaches, peeled and sliced
Crisscross two strips of foil, each 15×2, in a 9-inch pie plate, leaving a 2-inch overhang on each end. Coat pie plate and strips generously with butter or margarine; dust lightly with flour, tapping out any excess. (Foil strips make it easy to remove baked meringue from pie plate, if you wish.)
Separate 4 of the eggs, placing whites in a large bowl and yolks and remaining whole egg in the top of a medium-size double boiler for Step 4. Add cream of tartar and salt to egg whites; beat until foamy-white and double in volume; sprinkle in 1 cup of the sugar, 1 tablespoon at a time, beating all the time until sugar dissolves completely and meringue stands in firm peaks. (Beating will take about 25 minutes in all with an electric beater.) Spoon into prepared pie plate, building up side and dishing center slightly to make a shell.
Bake in very slow oven (275°) 1 hour, or until pale golden; cool completely in pie plate on a wire rack.
Add remaining 2/3 cup sugar and lemon juice to egg yolks in top of double boiler; beat slightly. Cook, stirring constantly, over simmering water, 10 minutes, or until mixture thickens slightly and coats a metal spoon; strain into a medium-size bowl; cool completely.
Beat cream until stiff in a small bowl; fold into custard mixture.
To remove meringue shell from pie plate, run a knife gently around edge to loosen completely, lifting up on foil strips at the same time. Lift shell out; peel off foil; place shell on a serving plate.
Arrange sliced peaches around edge in shell; spoon custard mixture in center. Chill at least 2 hours, or until filling is softly set. Just before serving, garnish with more peach slices. Cut into wedges.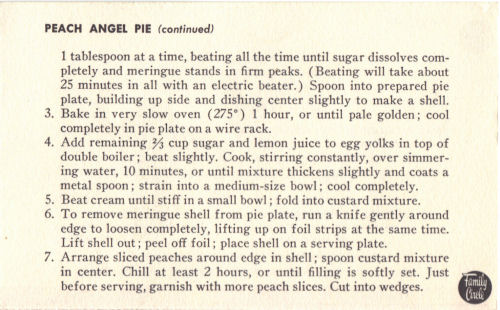 More Recipes For You To Enjoy: