A cute little recipe booklet from Ohio Apples titled: "New Ways To Serve". Inside info states: Issued by THE OHIO APPLE INSTITUTE, INC. McArthur, Ohio. No date but there is a "12-53" with the issue info that could be the month/year.
There are a lot of recipes in this little booklet and I'd like to transfer them all online. This post will be long ;).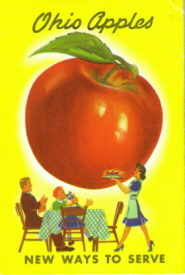 CANNING RECIPES YOU'LL ENJOY
APPLE JELLY
Use tart apples slightly underripe. Wash, cut into pieces. Use enough water to nearly cover. Cook 20 to 30 minutes. Mash. Let juice drip through jelly bag. The juice may be canned, or made into jelly immediately with equally good results. Work with small amounts of juice–about 6 to 8 cups at a time. Measure juice and sugar accurately, using 1 cup of sugar to 1 cup of juice. Heat quickly and boil rapidly until syrup reaches the jelly test. For this test dip a large spoon into the boiling syrup, and lift up the spoon so the syrup runs off the side. When several distinct drops cling together and "sheet off" the edge of the spoon the jelly is done.
Skim jelly and pour into glasses. Cover immediately with a thin layer of paraffin. Next day add second coat of paraffin. Crab apples may be used following the same procedure.
CANNING APPLES
Select uniform apples, wash, pare and core. Cut into desired size. If peeled fruit is to stand several minutes before packing, drop into slightly salted water to prevent discoloration. Drain. Drop in boiling syrup–thin–and cook until tender or transparent. Pack boiling hot into sterilized jars and seal.
APPLE BUTTER
10 pounds apples
8 quarts sweet cider
3 pounds sugar
2 tablespoons ground allspice
2 tablespoons ground cloves
3 tablespoons ground cinnamon
Wash, pare and core apples. Boil cider down to half the original amount. Add apples and cook until broken up. Add sugar and spices and cook to the consistency of fruit butter, stirring constantly to prevent scorching. Put into sterilized jars and seal.
CANNING APPLE SAUCE
Wash, pare, quarter and core apples. Cook in enough water to prevent burning. When soft, stir until smooth and press through a sieve. Add sugar to taste. Again heat sauce to boiling point and transfer immediately to hot jars or cans and seal.
Food needs to meet two requirements. It must be "good to eat" and "good for you".
Apples meet both requirements perfectly. Apples are "good to eat" in hundreds of ways. A fresh, ripe, raw apple is delicious to the taste and at the same time cleanses the teeth and massages the gums. It is the base for fruit salads. Cooked they are supreme for pie, cobbler, baked apple, sauce, fried apple, butter, jelly, etc., etc.
FAMOUS TESTED RECIPES YOU'LL ENJOY
APPLESAUCE CUSTARD MERINGUE
2 1/2 cups applesauce
4 tablespoons sugar
1 tablespoon butter
4 eggs, yolks and whites beaten separately
8 tablespoons powdered sugar
3 tablespoons hot water
1 teaspoon lemon juice
Beat the egg yolks with the 4 tablespoons of sugar, the butter, lemon juice and hot water. Heat a few minutes over low heat. Then beat this into the applesauce. Have the egg whites beaten stiff with the powdered sugar. Fold half of this mixture into the applesauce custard. Pour into a greased baking dish. Cover the dish with the rest of the meringue. Bake in a moderate oven (300° F.) for about 30 minutes, or until meringue is set and brown.
APPLE PIE MODERNE
4 cups sliced apples
1 teaspoon cinnamon
1/2 cup sugar
2 tablespoons butter
6 cups corn flakes (1 1/2 cups fine crumbs)
1/2 cup butter
1/4 cup sugar
Roll corn flakes into fine crumbs. Melt butter, add sugar gradually and mix with crumbs. Reserve 1/3 of this mixture; press the rest evenly over bottom and sides of pie pan. Fill crumb shell with apples; sprinkle with 1/2 cup sugar mixed with cinnamon. Dot with 2 tablespoons butter; sprinkle remaining crumbs over top. Bake in moderate oven (350° F.) for 1/2 hour, reduce heat to (300° F.) and bake 1 hour longer, until apples are tender. Yield: One 9-inch pie.
APPLE LOLLYPOPS
1 cup corn or maple syrup
12 (6-inch) wooden skewers
12 medium sized apples
1 cup sugar
Remove stem from apple and stick pointed end of skewer upright in its place. Put syrup and sugar in a deep small sauce pan (top of a two-quart double boiler is good) over heat. Stir until sugar is dissolved. Let boil undisturbed until a few drops poured in cold water will become brittle. Place the pan at once over boiling water. Dip the whole apples one at a time quickly in and out of the syrup until well coated. Place with skewers upright on a buttered platter. Cool.
APPLE PAN DOWDY
5 cups tart apples, peeled and sliced
1 cup brown sugar
1/4 cup flour
1/4 teaspoon salt
1/4 teaspoon cinnamon
Dash of nutmeg
1 teaspoon vinegar
1 teaspoon lemon juice
1 cup water
1 teaspoon vanilla
2 tablespoons butter
Mix sugar, flour and salt in a one-quart saucepan. Add vinegar and water, stir well. Cook over a low heat until thick, stirring constantly. Remove from heat and cool. Add flavoring, spice and butter.
Place apple slices in a well greased baking dish and pour the above syrup over the slices. (Use apple pan dowdy topping recipe at bottom of page).
BAKED APPLES
Baked apples are especially good for breakfast served with cream or milk, hot or cold. Select medium sized apples. Core and pare about 1 inch down. Fill centers with small piece of butter and sugar. Around apples put 1 cup sugar and 1 cup water. Bake at (375° F.) for 45 minutes. Baste several times. If syrup is not quite thick enough, remove apples and boil syrup on top of stove until it thickens. Variations: Add a cooked pitted prune to each center after taking apples from the oven.
Fill centers with raisins and nuts chopped fine and bake.
Fill centers with crushed pineapple, top with marshmallow whip.
Serve with topping of Philadelphia cream cheese softened with cream and beaten until fluffy.
TOPPING FOR APPLE PAN DOWDY
1 cup flour
2 teaspoons baking powder
2 1/2 tablespoons shortening
1/2 teaspoon salt
3/4 cup milk
Sift flour, salt and baking powder together twice. With a pastry blender cut in the shortening until the lumps are the size of peas. Add milk and stir until the flour mixture is wet. Drop on the apple mixture. Bake in a 400 degree oven for 30 minutes, then 15 more minutes at 350°. This will serve 6 to 8 people.
AMERICA'S FAVORITE FRUIT FOR GOOD HEALTH AND GOOD EATING
APPLE CHARLOTTE
6 cups sliced apples
1 1/4 cups brown sugar
1/4 cup lemon juice
1 loaf of bread (crusts removed)
Butter or margarine
Grease a baking dish. Cover the bottom and sides with pieces of bread which have been buttered. Put in a layer of sliced apples. Sprinkle with brown sugar, and butter (or margarine). Cover with buttered bread. Repeat with apples, sugar, lemon juice and butter or margarine, and make the top layer bread. Cover for the first half hour of baking. Bake (325° F.) for one hour or longer if the apples are not done. Serve with whipped cream or plain cream.
APPLE COFFEE RING
Coffee Cake Mix:
2 cups flour
4 teaspoons baking powder
1/2 teaspoon salt
2 tablespoons shortening
1 tablespoon sugar
3/4 cup milk
Filling:
4 cups chopped apples
1/2 cup sugar
1 teaspoon cinnamon
1/2 cup chopped nuts
1/4 cup corn syrup
For cake mix, sift together dry ingredients; cut in shortening with pastry mixer; add milk slowly to make soft dough. Roll into a square, 1/4″ thick on floured board. Spread cake mix with filling which has been well mixed together. Roll up in fashion of a jelly roll. Cut with sharp knife at 1/2″ intervals, leaving one edge of roll uncut. Place in oiled pan, curled into a ring. Brush entire surface with melted butter and sprinkle lightly with sugar and cinnamon. Bake 45 minutes in moderate oven (350° F.).
FROZEN APPLE SLICES
Select good, firm-ripe apples. (Do not freeze apples which have turned brown on the inside or have started to spoil.) Peel and core the apples and cut into slices. To prevent discoloration the apples can be sliced into a solution of 5 tablespoons lemon juice to 2 quarts water. Drain and pack into the freezing cartons. Apple slices may be packed with dry sugar in the proportion of 1 part sugar to 4 parts apples; or they may be covered with a thin sirup made with 1 part sugar to 3 parts water. Adding ascorbic acid to the packed fruit not only prevents discoloration but adds to the vitamin C content of the fruit. The following proportions are used: Add 1/2 teaspoon ascorbic acid to each cup of sugar used.
DUTCH APPLE PIE
6 or 8 apples
1 cup brown sugar
3 tablespoons flour
1/2 cup granulated sugar
1/2 teaspoon cinnamon
1 cup sweet or sour cream
Wash, pare and quarter apples. Mix brown and white sugar, cinnamon and flour. Put half this mixture in the bottom of an unbaked pie shell. Add apples arranging symetrically. Mix cream with remainder of flour and sugar and pour over the top. Place in a pre-heated oven (450° F.). Reduce temperature after 10 minutes to (325° F.). Bake aproximately 45 minutes or until apples are translucent and tender.
SUPREME APPLE DUMPLINGS
4 medium size apples
1 tablespoon sugar for each dumpling
1 teaspoon butter for each dumpling
Cinnamon to taste
Rich baking powder biscuit dough
1 cup water
1 cup sugar
Wash, core and pare apples. Pat biscuit dough to 1/2″ thickness. Cut into squares large enough to enclose 1 apple. Place apple in center of each square. Fill cavity with 1 tablespoonful sugar, 1 teaspoonful butter and cinnamon if desired. Bring edges of dough together on top of apples. Place in pan or individual casserole. Boil 1 cup sugar and 1 cup water for 5 minutes. Pour 1/4 cup over individual dumplings or all over the whole pan. Baste during baking. Bake at (450° F.) for 20 minutes. Then (350° F.) for 30 minutes. Serve warm with plain cream.
FROZEN APPLE SAUCE
To every cup of warm apple sauce add one-fourth cup of sugar. Cool thoroughly and avoid too much stirring since vitamin C is lost by exposure to air. Pack in containers and allow 1/2 to 3/4 inch head space in top of containers for expansion during freezing.
OHIO APPLE CRISP
3 cups chopped apple
1/2 cup dark corn syrup
1/4 cup hot water
1/2 cup brown sugar
1 cup rolled oats
1/4 cup butter
1/4 cup flour
3/4 tsp. salt
Place chopped apple in a buttered baking dish and add corn syrup and hot water combined. Mix butter, brown sugar, flour, salt and rolled oats until they are a crumby consistency. Sprinkle over top of apples. Bake at (350° F.) 1 hour.
UP-SIDE DOWN APPLE CAKE
2 cups flour
1 cup sugar
2 eggs
2 teaspoons baking powder
1/2 cup butter
1/2 cup milk
Vanilla
4 medium sized apples
Cream butter and sugar thoroughly, add the well beaten egg yolks. Add the flour and milk alternately, having sifted the baking powder with the flour. Lastly fold in the beaten egg whites and vanilla. Melt 2 tablespoons of butter in a pan. Spread 1 cup of brown sugar in the butter. Pare 4 apples and cut in rings like pineapple. Place apple rings in butter and sugar mixture with a maraschino cherry in each center. Pour cake batter over this and bake (350° F.) for 45 minutes. Turn out on platter and serve with either whipped cream or ice cream.
APPLE FRITTERS
1 1/3 cups flour
1/4 teaspoon salt
2 teaspoons baking powder
2/3 cup milk
1 egg, well beaten
2 large sour apples
Sift flour, baking powder and salt. Add gradually, while stirring constantly, milk and egg. Wash, core, pare and cut apples into rounds. Dip each round into batter. Put into hot fat (350° F.) and fry until delicately brown. Drain on absorbent paper and sprinkle with powdered sugar.
APPLE MUFFINS
2 cups flour
3/4 teaspoon salt
4 tablespoons sugar
2 tablespoons butter
2 tablespoons baking powder
2 eggs
1 cup finely chopped apples
1/2 cup milk
1/2 tsp. cinnamon
12 apple slices
Mix flour, salt, baking powder and half the sugar. Cut in butter with two knives or a pastry blender. Add chopped apples, mix. Lightly and quickly add the beaten eggs with the milk. Drop by spoonfuls in greased muffin pans. Place one slice of apple on each muffin. Mix remaining sugar and cinnamon, sprinkle this over the tops and bake (400° F.) for about 20 minutes. These are fine reheated, for there is enough moisture in the apples to keep them from drying out. Yields: twelve muffins.
RICE WITH APPLE COMPOTE
1 cup rice
1 cup sugar
1 cup water
1 teaspoon salt
4 to 6 apples
1 cup sugar
1 cup water
1/2 glass currant jelly
Wash rice, add to the salted water and milk, and cook in a double boiler until rice is done. Pare and halve the apples, and cook in a syrup made of one cup water and one cup sugar. Keep the shapes of the apples whole, turning often and cooking until tender. Shape the rice in a mound and set the apples on the rice. Fill the centers with some of the jelly. Add the remaining jelly to the syrup in which the apples have been cooked. Beat until smooth and pour over the rice and apples. Serve hot.
OHIO APPLE PIE
8 tart apples (medium size)
1 1/2 cups sugar
2 tablespoons flour
2 tablespoons butter
Plain pie pastry
Wash, pare and slice apples. Add sugar and flour and mix well before pouring into bottom pie crust. Bake in a hot (450° F.) oven for 15 minutes, then decrease heat to moderate (350° F.) for another 15 or 20 minutes. To insure a flaky crust, be very sparing with the water added to the pastry mixture, and handle the mixture as sparingly and lightly as possible.
SUREFIRE RECIPES THAT ALL THE FAMILY WILL LIKE
APPLE STRUDEL
2 1/2 cups flour
1 teaspoon salt
1/2 cup warm water
1 cup brown sugar
1/2 cup chopped nuts
1/2 teaspoon cinnamon
1/2 cup seedless raisins
2 tablespoons shortening
2 eggs, slightly beaten
5 cups sliced apples
3 tablespoons melted butter
Grated rind of 1 lemon
Sift flour and salt together. Cut in the 2 tablespoons of shortening, and add the eggs and water. Knead well, then beat dough against board until it blisters. Stand it in a warm place under a cloth for 20 minutes. Cover table with white cloth and flour cloth. Put the dough on it, pull out with hands carefully until the thickness of paper. Spread with mixture made of sliced apples, melted butter, raisins, nuts, brown sugar, cinnamon and grated lemon rind. Fold in the outer edges and roll about 4 inches wide. Bake in a hot oven (450° F.) for 10 minutes. Reduce heat to (400° F.), continue baking for 20 minutes. Cool. Slice, serve with coffee.
HOT APPLE TRIANGLES
1 cup chopped apple
2 cups all-purpose flour
2 1/2 teaspoons baking powder
1/4 cup shortening
1 egg
1/4 cup sugar
1 cup milk
1/4 teaspoon salt
1 apple (sliced)
Cream shortening and sugar, add egg and beat well. Sift together the baking powder and flour and add alternately with milk. Stir in the chopped apple. Pour in a well greased cake pan. Arrange slices of apple on the top and dust with cinnamon and sugar. Milk may be added. Bake (375° F.) for 45 minutes. Serve hot.
SAUSAGES BAKED IN APPLES
Wash, core and partly peel six red apples. In each cavity insert two link sausages or four little pig sausages. Place apples in a baking pan. Add 1/3 cup of currant jelly and 1/4 cup of water. Bake at (425° F.) for about 45 minutes, basting frequently with jelly mixture. yields six servings.
SPICY APPLE JUICE
Combine one quart canned apple juice, one cup water, one half cup brown sugar, one half lemon, sliced thin, one half orange, sliced thin, one stick cinnamon, and one fourth teaspoon nutmeg. Heat to boiling. Simmer ten minutes. Strain. Serve hot in mugs. Garnish with a sprig of mint or lemon slice. Or serve cold. Serves 8.
DELICIOUS OHIO APPLE SALADS
All fruits and many vegetables combine delightfully with Ohio Apples into fresh, crisp salads of perfect appetite appeal. The uncooked fruits and vegetables used in salads furnish vitamins and minerals essential to good health, and which are unobtainable in any cooked foods. The following are suggested salad combinations:
Sliced apple, avocado, oranges and maraschino cherries
Chopped apple, shredded carrots and celery
Chopped apple, pineapple, bananas, and shredded nuts
Chopped apple, marshmallow bits, dried raisins, figs or dates
Chopped apple, cottage cheese, chopped almonds or pecans
Chopped apple, flaked salmon or tuna fish, celery and walnuts
Chopped apple, shredded cabbage, raisins and lemon juice
Chopped apple, raw turnip, and chopped parsley
Apple salads may be blended with mayonnaise, salad dressing or French dressing. Mayonnaise or salad dressing may be thinned with cream or canned fruit juices.
MINTED APPLE SALAD
Wash, core and peel apples, and simmer until transparent, but not soft, in the following syrup:
2 cups sugar
2 cups water
4 drops of peppermint oil
1/2 teaspoon green food coloring
When the apples are transparent, and a delicate green, carefully remove from syrup and cool. Before serving, fill centers with shredded American Cream Cheese and top with a swirl of mayonnaise and a sprig of watercress or parsely.
OHIOAN APPLE SALAD
3 cups diced apples
1 cup chopped dates
1 cup chopped celery
Sections from 3 oranges
French dressing
Cheese balls and lettuce
Place lettuce leaves on plate to form a cup. Arrange fruit in lettuce cup and decorate with cheese ball. Serve with French dressing. For a grand luncheon serve Ohioan Apple Salad, peanut butter sandwiches and a beverage.
TREE-RIPENED ORCHARD-FRESH OHIO APPLES TASTE BETTER
More Recipes For You To Enjoy: