This recipe was clipped from a newspaper and found in a large collection, date unknown. I've typed it below along with a scanned copy.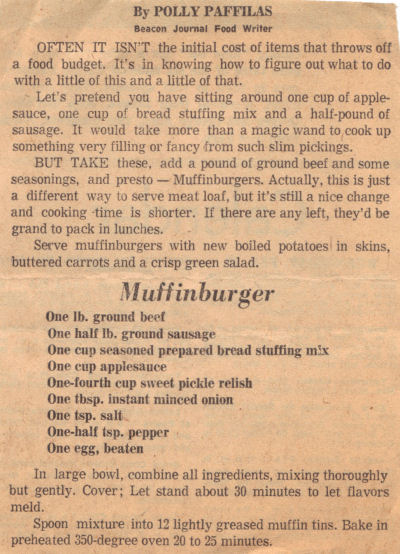 By POLLY PAFFILAS
Beacon Journal Food Writer
OFTEN IT ISN'T the initial cost of items that throws off a food budget. It's in knowing how to figure out what to do with a little of this and a little of that.
Let's pretend you have sitting around one cup of applesauce, one cup of bread stuffing mix and a half-pound of sausage. It would take more than a magic wand to cook up something very filling or fancy from such slim pickings.
BUT TAKE these, add a pound of ground beef and some seasonings, and presto–Muffinburgers. Actually, this is just a different way to serve meat loaf, but it's still a nice change and cooking time is shorter. If there are any left, they'd be grand to pack in lunches.
Serve muffinburgers with new boiled potatoes in skins, buttered carrots and a crisp green salad.
Muffinburger
One lb. ground beef
One half lb. ground sausage
One cup seasoned prepared bread stuffing mix
One cup applesauce
One-fourth cup sweet pick relish
One tbsp. instant minced onion
One tsp. salt
One-half tsp. pepper
One egg, beaten
In large bowl, combine all ingredients, mixing thoroughly but gently. Cover; Let stand about 30 minutes to let flavors meld.
Spoon mixture into 12 lightly greased muffin tins. Bake in preheated 350-degree oven 20 to 25 minutes.
More Recipes For You To Enjoy: