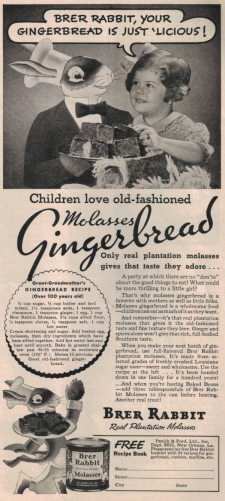 Here's a treasure, this recipe advertisement for Brer Rabbit Molasses was published in a magazine in 1935, it features a recipe that was 100 years old at that time for gingerbread. Here's a scanned copy (you can click it to view a larger size) as well as typed recipe below.
Children love old-fashioned Molasses Gingerbread
Only real plantation molasses gives that taste they adore…
A party at which there are no "don'ts" about the good things to eat! What could be more thrilling to a little girl?
That's why molasses gingerbread is a favorite with mothers as well as little folks. Molasses gingerbread is a wholesome food–children can eat as much of it as they want.
And remember–it's that real plantation molasses that gives it the old-fashioned taste and fine texture they love. Ginger and spices alone won't give that rich, full-bodied Southern taste.
When you make your next batch of gingerbread, use full-flavored Brer Rabbit plantation molasses. It's made from selected grades of freshly crushed Louisiana sugar cane–sweet and wholesome. Use the recipe at the left…It's been handed down in one family for a hundred years!…And when you're having Baked Beans–add three tablespoonfuls of Brer Rabbit Molasses to the can before heating. Another real treat!
BRER RABBIT
Real Plantation Molasses
Great-Grandmother's
GINGERBREAD RECIPE
(over 100 years old)
1/2 cup sugar, 1/2 cup butter and lard mixed, 1 1/2 teaspoons soda, 1 teaspoon cinnamon, 1 teaspoon ginger, 1 egg, 1 cup Brer Rabbit Molasses, 2 1/2 cups sifted flour, 1/2 teaspoon cloves, 1/2 teaspoon salt, 1 cup hot water
Cream shortening and sugar. Add beaten egg, molasses, then dry ingredients which have been sifted together. Add hot water last and beat until smooth. Bake in greased shallow pan 40-45 minutes in moderate oven (350° F.). Makes 15 portions. Good old-fashioned gingerbread.
More Recipes For You To Enjoy: