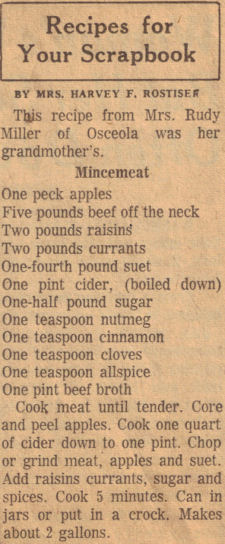 Here's a vintage recipe clipping from the 1950's or 1960's, the newspaper reader who sent this in at the time said it was her grandmother's recipe–so this is quite an oldy! Recipe typed in full below along with a scanned copy.
Recipes for Your Scrapbook
By Mrs. Harvey F. Rostiser
This recipe from Mrs. Rudy Miller of Osceola was her grandmother's.
Mincemeat
One peck apples
Five pounds beef off the neck
Two pounds raisins
Two pounds currants
One-fourth pound suet
One pint cider, (boiled down)
One-half pound sugar
One teaspoon nutmeg
One teaspoon cinnamon
One teaspoon cloves
One teaspoon allspice
One pint beef broth
Cook meat until tender. Core and peel apples. Cook one quart of cider down to one pint. Chop or grind meat, apples and suet. Add raisins currants, sugar and spices. Cook 5 minutes. Can in jars or put in a crock. Makes about 2 gallons.
More Recipes For You To Enjoy: