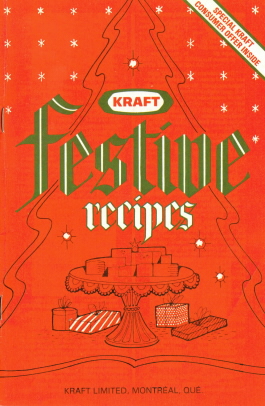 This is a recipe booklet from KRAFT that's from 1979 (judging by the expiry date for the coupons in the middle of the booklet). There are 11 pages of recipes so I'll just include a few below.
KRAFT FESTIVE RECIPES
CRANBERRY NUT BREAD
*found on page 3
1/2 cup PARKAY Margarine
1 1/4 cups sugar
2 eggs
3 cups all-purpose flour
1 tablespoon baking powder
1 teaspoon salt
1/2 teaspoon baking soda
3/4 cup water
1/3 cup orange juice
1 1/2 cups cranberries, coarsely chopped
1 cup chopped nuts
1 tablespoon grated orange rind
Cream margarine and sugar; blend in eggs. Sift together flour, baking powder, salt and baking soda; add alternately with water and orange juice, mixing well after each addition. Fold in cranberries, nuts and orange rind; pour into greased 9 x 5-inch loaf pan. Bake at 350°F (180°C), 1 hour and 10 minutes.
HONEY TEA RING
*found on page 4
1 8-oz pkg. PHILADELPHIA BRAND Cream Cheese, softened
1/4 cup sugar
1/2 teaspoon vanilla
2 cups variety baking mix
1/3 cup chopped nuts
1/2 cup raisins
KRAFT Natural Honey
Combine softened cream cheese, sugar and vanilla, mixing until well blended. Prepare baking mix according to package directions for biscuit dough. Roll to 12 x 8-inch rectangle on lightly floured surface. Spread with cream cheese mixture; sprinkle with nuts and raisins. Roll up, starting on long side; seal long edge. Place on greased cookie sheet; join ends to form ring. With scissors, cut three quarters of the way through ring at 1-inch intervals; turn each section on its side. Bake at 425°F (200°C), 15 minutes. Glaze with honey; continue baking 5 to 7 minutes or until golden brown. Glaze with additional honey, if desired.
SPECIAL BREAD STUFFING
*found on page 7
8 cups toasted bread cubes
1 cup MIRACLE WHIP Salad Dressing
1 cup finely chopped onion
2/3 cup thinly sliced celery
2/3 cup sliced mushrooms, drained
2/3 cup cold water (or chicken broth)
1/2 teaspoon salt
1/2 teaspoon sage
Dash of pepper
Combine all ingredients; mix lightly until well blended. Stuff chicken or turkey.
NOTE: Stuffing can be baked in a greased covered shallow pan at 350°F (180°C), 30 minutes.
(Allow approximately 3/4 cup stuffing per 1 lb of bird).
BANANA BONANZA CAKE
*found on page 10
2/3 cup PARKAY Margarine
1 2/3 cups sugar
3 eggs
1 1/4 cups mashed bananas
2 1/4 cups all purpose flour
1 1/4 teaspoons baking powder
1 1/4 teaspoons soda
1 teaspoon salt
2/3 cup buttermilk
2/3 cup chopped nuts
* * *
Caramel Frosting
Cream margarine and sugar; blend in eggs. Add bananas; mix well. Combine flour, baking powder, salt and soda; add to creamed mixture alternately with buttermilk. Stir in nuts. Pour into greased and floured 13 x 9-inch baking pan. Bake at 350°F (180°C), 45 to 50 minutes. Cool. Frost with Caramel Frosting.
CARAMEL FROSTING
1/2 cup PARKAY Margarine
1/4 cup milk
1 cup brown sugar, packed
3 cups sifted icing sugar
Combine margarine, milk and brown sugar in saucepan; bring to a boil, stirring constantly. Cool to 10 minutes. Gradually add icing sugar, beating until well blended.
HOT PARMESAN POTATO SALAD
*found on page 12
1/3 cup KRAFT Italian Dressing
4 cups cooked potato slices
1/2 cup sliced celery
1/2 cup sliced green onion
6 crisply cooked bacon slices, crumbled
1/2 cup KRAFT Grated Parmesan Cheese
Combine dressing, potatoes, celery, onion and bacon. Cook over low heat until thoroughly heated, stirring occasionally. Remove from heat; stir in cheese. Serve hot.
4-6 servings
More Recipes For You To Enjoy: