This vintage recipe was clipped from a newspaper, date unknown but the phone number listed at the bottom of the clipping is only 6 digits with both letters and numbers used, so it's a few decades old. Recipe is typed below along with a scanned copy.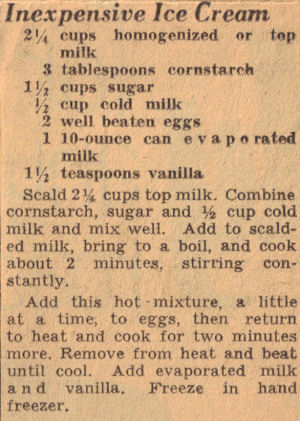 Inexpensive Ice Cream
2 1/4 cups homogenized or top milk
3 tablespoons cornstarch
1 1/2 cups sugar
1/2 cup cold milk
2 well beaten eggs
1 10-ounce can evaporated milk
1 1/2 teaspoons vanilla
Scald 2 1/4 cups top milk. Combine cornstarch, sugar and 1/2 cup cold milk and mix well. Add to scalded milk, bring to a boil, and cook about 2 minutes, stirring constantly.
Add this hot mixture, a little at a time, to eggs, then return to heat and cook for two minutes more. Remove from heat and beat until cool. Add evaporated milk and vanilla. Freeze in hand freezer.
More Recipes For You To Enjoy: