This vintage recipe was clipped from a newspaper and found in a large collection, date unknown but I would guess 1940's – 1950's based on the information on the back. Recipe is typed below along with a scanned copy.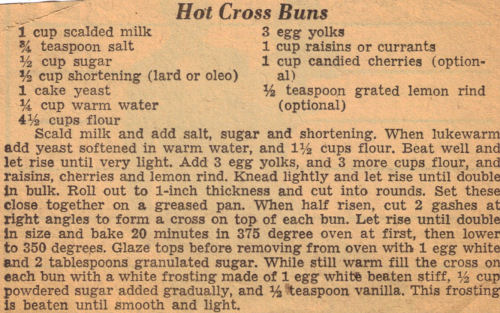 Hot Cross Buns
1 cup scalded milk
3/4 teaspoon salt
1/2 cup sugar
1/2 cup shortening (lard or oleo)
1 cake yeast
1/4 cup warm water
4 1/2 cups flour
3 egg yolks
1 cup raisins or currants
1 cup candied cherries (optional)
1/2 teaspoon grated lemon rind (optional)
Scald milk and add salt, sugar and shortening. When lukewarm add yeast softened in warm water, and 1 1/2 cups flour. Beat well and let rise until very light. Add 3 egg yolks, and 3 more cups flour, and raisins, cherries and lemon rind. Knead lightly and let rise until double in bulk. Roll out to 1-inch thickness and cut into rounds. Set these close together on a greased pan. When half risen, cut 2 gashes at right angles to form a cross on top of each bun. Let rise until double in size and bake 20 minutes in 375 degree oven at first, then lower to 350 degrees. Glaze tops before removing from oven with 1 egg white and 2 tablespoon granulated sugar. While still warm fill the cross on each bun with a white frosting made of 1 egg white beaten stiff, 1/2 cup powdered sugar added gradually, and 1/2 teaspoon vanilla. This frosting is beaten until smooth and light.
More Recipes For You To Enjoy: