This recipe was clipped from a newspaper and found in a large collection, date unknown. I've typed it below along with a scanned copy.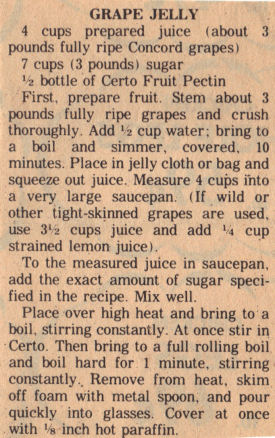 GRAPE JELLY
4 cups prepared juice (about 3 pounds fully ripe Concord grapes)
7 cups (3 pounds) sugar
1/2 bottle of Certo Fruit Pectin
First, prepare fruit. Stem about 3 pounds fully ripe grapes and crush thoroughly. Add 1/2 cup water; bring to a boil and simmer, covered, 10 minutes. Place in jelly cloth or bag and squeeze out juice. Measure 4 cups into a very large saucepan. (If wild or other tight-skinned grapes are used, use 3 1/2 cups juice and add 1/4 cup strained lemon juice).
To the measured juice in saucepan, add the exact amount of sugar specified in the recipe. Mix well.
Place over high heat and bring to a boil, stirring constantly. At once stir in Certo. Then bring to a full rolling boil and boil hard for 1 minute, stirring constantly. Remove from heat, skim off foam with metal spoon, and pour quickly into glasses. Cover at once with 1/8-inch hot paraffin.
Before using this recipe, it's important to read this page, the "Safe Canning & Food Preservation" section.
More Recipes For You To Enjoy: