This promo recipe was clipped from packaging, likely a box of Argo Cornstarch, date unknown. I've typed it below along with a scanned copy.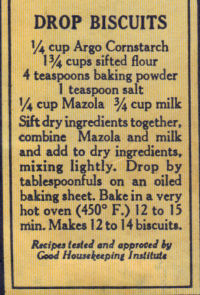 DROP BISCUITS
1/4 cup Argo Cornstarch
1 3/4 cups sifted flour
4 teaspoons baking powder
1 teaspoon salt
1/4 cup Mazola
3/4 cup milk
Sift dry ingredients together, combine Mazola and milk and add to dry ingredients, mixing lightly. Drop by tablespoonfuls on an oiled baking sheet. Bake in a very hot oven (450° F.) 12 to 15 min. Makes 12 to 14 biscuits.
More Recipes For You To Enjoy: