Here's a recipe for cream filling that provides a basic recipe plus almond and chocolate versions. This was clipped from a newspaper, date unknown. Recipe is typed below along with a scanned copy (I corrected a couple of typos).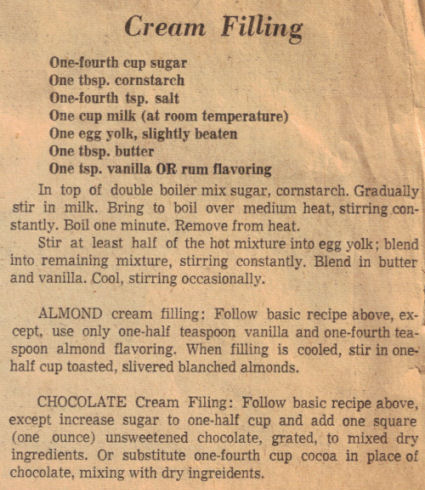 Cream Filling
One-fourth cup sugar
One tbsp. cornstarch
One-fourth tsp. salt
One cup milk (at room temperature)
One egg yolk, slightly beaten
One tbsp. butter
One tsp. vanilla OR rum flavoring
In top of double boiler mix sugar, cornstarch. Gradually stir in milk. Bring to boil over medium heat, stirring constantly. Boil one minute. Remove from heat.
Stir at least half of the hot mixture into egg yolk; blend into remaining mixture, stirring constantly. Blend in butter and vanilla. Cool, stirring occasionally.
ALMOND cream filling: Follow basic recipe above, except, use only one-half teaspoon vanilla and one-fourth teaspoon almond flavoring. When filling is cooled, stir in one-half cup toasted, slivered blanched almonds.
CHOCOLATE Cream Filling: Follow basic recipe above, except increase sugar to one-half cup and add one square (one ounce) unsweetened chocolate, grated, to mixed dry ingredients. Or substitute one-fourth cup cocoa in place of chocolate, mixing with dry ingredients.
More Recipes For You To Enjoy: