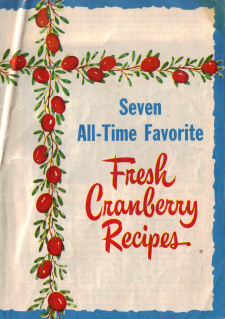 This recipe comes from a vintage recipe pamphlet distributed by Ocean Spray Cranberry Products, date unknown. The pamphlet features seven different fresh cranberry recipes…this is the Cranberry Festival Cake recipe, typed below along with a scanned copy of the page at the bottom.
Delightfully different…tender, smooth-textured cake with bright red tangy cranberries throughout. Serve as a delicious coffee/and…or milk/and…special for breakfast or brunch, luncheon or dinner dessert, or in-between munching.
Quick-Mix Recipe…
Cranberry Festival Cake
1/2 cup shortening
1 cup sugar
1 egg
2 cups sifted all-purpose flour
2 teaspoons baking powder
1/4 teaspoon salt
3/4 cup milk
1/2 teaspoon vanilla
1 cup halved Ocean Spray Fresh Cranberries
Cream shortening and sugar until light and fluffy. Add egg, beating until thoroughly blended. Sift together flour, baking powder, and salt. Stir the vanilla into the milk. Add dry ingredients alternately with the milk, mixing well after each addition. Fold in halved cranberries. Pour into greased 8″x 8″ square cake pan. Sprinkle with sugar and bake in 350°F. oven 45 to 50 minutes.
Fresh frozen cranberries don't stick together, are easier to cut, chop or grind while still frozen.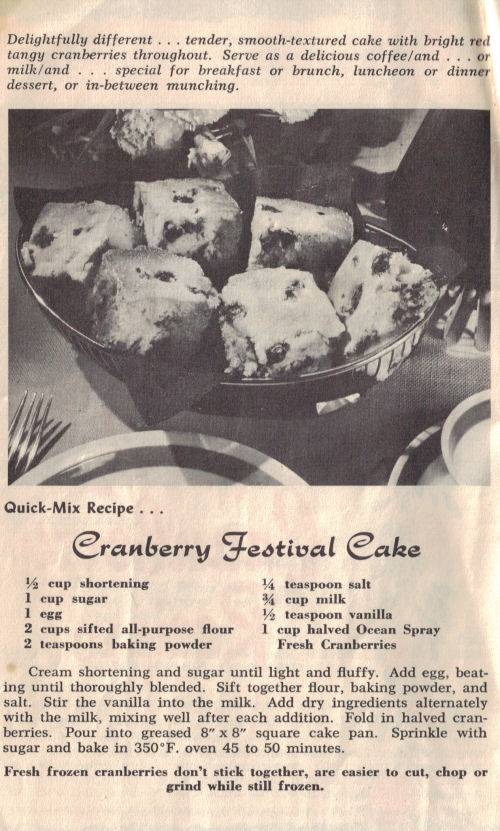 More Recipes For You To Enjoy: