Canned spam dishes and recipes are truly something that brings us back in time! I remember having spam sandwiches as a child, but these dishes are different indeed.
Here are four recipes from a page in an old booklet titled:
"Let's Eat Outdoors"
Recipes and Ideas for Picnics, Barbecues, Patio Parties, Camping
American Dairy Association
No date
Recipes follow the image below (found in center of booklet, too cute ;)):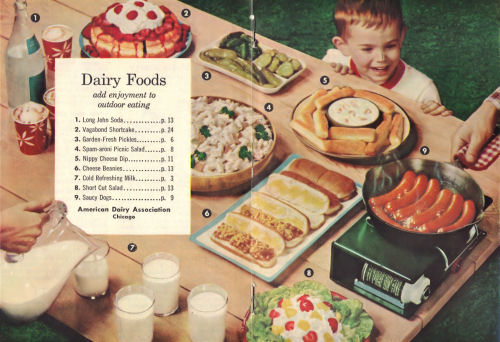 FUN ON A BUN
Grind together 1 loaf Spam, 1 small onion, and 1/2 lb. Cheddar cheese. Stir in condensed mushroom soup to moisten. Scoop out soft centers of buns. Fill with mixture. Heat, foil-wrapped, in oven or on grill.
DAD'S BARBECUED SPAM
Grill thick Spam slices, brushing frequently with McCormick Spicy Barbecue Sauce, p. 10. Serve on buttered bun with tomato and onion slices.
PAUL BUNYAN SANDWICH
Heap lengthwise-cut French bread halves with Spam slices, onion rings, cheese slices, tomato, green pepper . . . anything you like! Drizzle on your favorite French dressing.
SPAM-ARONI PICNIC SALAD
Combine 3 cups chilled cooked macaroni, 1 can Spam, cubed, 1/2 lb. American or Cheddar cheese, cubed, 1 cup chopped celery, 2 tbsp. minced onion. Toss together with dairy sour cream. 6 to 8 servings.
Truly back-in-the-day! ;)
More Recipes For You To Enjoy: