This is a handwritten recipe on a white index card, date unknown. Recipe is typed below along with a scanned copy. The # sign signifies "pound" in the butter measurement.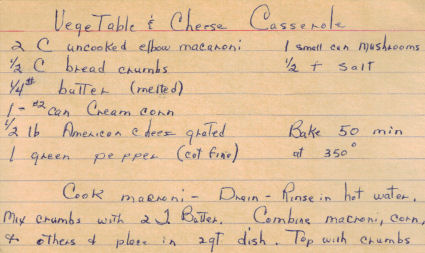 Vegetable & Cheese Casserole
2 C uncooked elbow macaroni
1/2 C bread crumbs
1/4# butter (melted)
1-#2 can cream corn
1/2 lb American cheese grated
1 green pepper (cut fine)
1 small can mushrooms
1/2 t salt
Cook macaroni–Drain–Rinse in hot water. Mix crumbs with 2 T. Butter. Combine macaroni, corn, & others & place in 2 qt. dish. Top with crumbs.
Bake 50 min at 350°
More Recipes For You To Enjoy: