This recipe was clipped from a box, likely from Domino Sugar, date unknown. There is a Chocolate Pinwheel variation included as well. Recipe is typed in full below along with a scanned copy.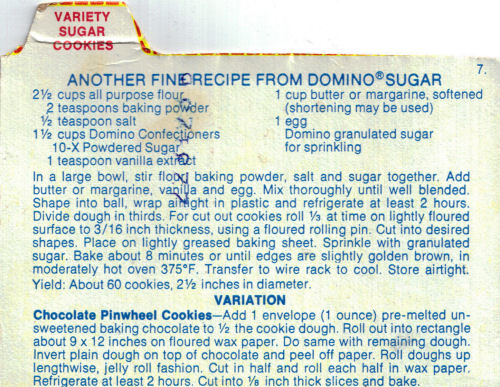 VARIETY SUGAR COOKIES
ANOTHER FINE RECIPE FROM DOMINO SUGAR
2 1/2 cups all purpose flour
2 teaspoons baking powder
1/2 teaspoon salt
1 1/2 cups Domino Confectioners 10-X Powdered Sugar
1 teaspoon vanilla extract
1 cup butter or margarine, softened (shortening may be used)
1 egg
Domino granulated sugar for sprinkling
In a large bowl, stir flour, baking powder, salt and sugar together. Add butter or margarine, vanilla and egg. Mix thoroughly until well blended. Shape into ball, wrap airtight in plastic and refrigerate at least 2 hours. Divide dough in thirds. For cut out cookies roll 1/3 at a time on lightly floured surface to 3/16 inch thickness, using a floured rolling pin. Cut into desired shapes. Place on lightly greased baking sheet. Sprinkle with granulated sugar. Bake about 8 minutes or until edges are slightly golden brown, in moderately hot oven 375°F. Transfer to wire rack to cool. Store airtight.
Yield: About 60 cookies, 2 1/2 inches in diameter.
VARIATION
Chocolate Pinwheel Cookies–Add 1 envelope (1 ounce) pre-melted unsweetened baking chocolate to 1/2 the cookie dough. Roll out into rectangle about 9 x 12 inches on floured wax paper. Do same with remaining dough. Invert plain dough on top of chocolate and peel off paper. Roll doughs up lengthwise, jelly roll fashion. Cut in half and roll each half in wax paper. Refrigerate at least 2 hours. Cut into 1/8 inch thick slices and bake.
More Recipes For You To Enjoy: