This recipe article explains how to make your own pudding mixes in bulk for future use (makes about 7 batches at a time). Flavor variations are vanilla and chocolate. This was clipped from a newspaper, date unknown. Instructions and recipes are typed below along with a scanned copy.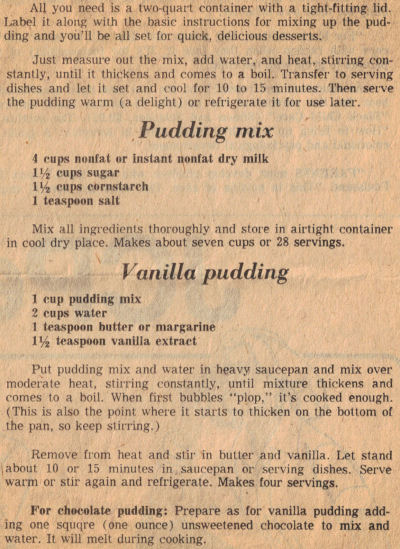 All you need is a two-quart container with a tight-fitting lid. Label it along with the basic instructions for mixing up the pudding and you'll be all set for quick, delicious desserts.
Just measure out the mix, add water, and heat, stirring constantly, until it thickens and comes to a boil. Transfer to serving dishes and let it set and cool for 10 to 15 minutes. Then serve the pudding warm (a delight) or refrigerate it for use later.
Pudding mix
4 cups nonfat or instant nonfat dry milk
1 1/2 cups sugar
1 1/2 cups cornstarch
1 teaspoon salt
Mix all ingredients thoroughly and store in airtight container in cool dry place. Makes about seven cups or 28 servings.
Vanilla pudding
1 cup pudding mix
2 cups water
1 teaspoon butter or margarine
1 1/2 teaspoon vanilla extract
Put pudding mix and water in heavy saucepan and mix over moderate heat, stirring constantly, until mixture thickens and comes to a boil. When first bubbles "plop," it's cooked enough. (This is also the point where it starts to thicken on the bottom of the pan, so keep stirring.)
Remove from heat and stir in butter and vanilla. Let stand about 10 or 15 minutes in saucepan or serving dishes. Serve warm or stir again and refrigerate. Makes four servings.
For chocolate pudding: Prepare as for vanilla pudding adding one square (one ounce) unsweetened chocolate to mix and water. It will melt during cooking.
More Recipes For You To Enjoy: