This recipe was written on a lined index card and found in a large collection, date unknown. I've typed it below along with a scanned copy.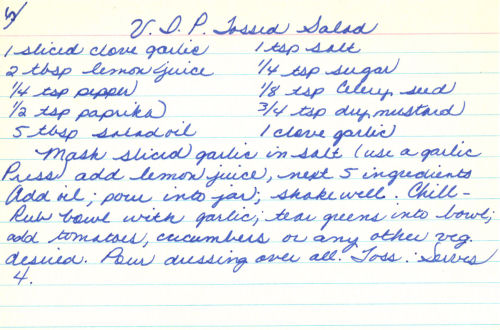 V.I.P. Tossed Salad
1 sliced clove garlic
2 tbsp lemon juice
1/4 tsp pepper
1/2 tsp paprika
5 tbsp salad oil
1 tsp salt
1/4 tsp sugar
1/8 tsp celery seed
3/4 tsp dry mustard
1 clove garlic
Mash sliced garlic in salt (use a garlic press), add lemon juice, next 5 ingredients. Add oil; pour into jar; shake well. Chill–rub bowl with garlic; tear greens into bowl; add tomatoes, cucumbers or any other veg. desired. Pour dressing over all. Toss. Serves 4.
More Recipes For You To Enjoy: