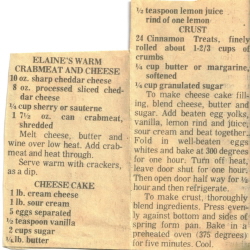 Here are two recipes from a newspaper clipping, date unknown. I would guess 1970s or early 1980s based on the shoe style on the back advertisement.
ELAINE'S WARM CRABMEAT AND CHEESE
10 oz. sharp cheddar cheese
8 oz. processed sliced cheddar cheese
1/4 cup sherry or sauterne
1 7 1/2 oz. can crabmeat, shredded
Melt cheese, butter and wine over low heat. Add crabmeat and heat through.
Serve warm with crackers, as a dip.
CHEESE CAKE
1 lb. cream cheese
1 lb. sour cream
5 eggs separated
1/2 teaspoon vanilla
2 cups sugar
1/4 lb. butter
1/2 teaspoon lemon juice
rind of one lemon
CRUST
24 Cinnamon Treats, finely rolled about 1-2/3 cups of crumbs
1/4 cup butter or margarine, softened
1/4 cup granulated sugar
To make cheese cake filling, blend cheese, butter and sugar. Add beaten egg yolks, vanilla, lemon rind and juice, sour cream and beat together. Fold in well-beaten eggs whites and bake at 300 degrees for one hour. Turn off heat, leave door shut for one hour. Then open door half way for 1/2 hour and then refrigerate.
To make crust, thoroughly blend ingredients. Press evenly against bottom and sides of spring form pan. Bake in a preheated oven (375 degrees) for five minutes. Cool.
More Recipes For You To Enjoy: