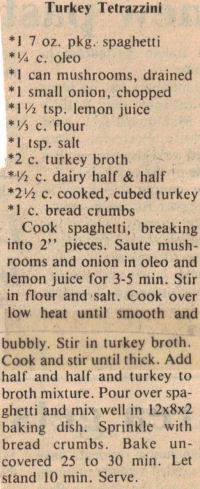 This recipe was clipped from a magazine, date unknown. Recipe is typed below along with a scanned copy.
Turkey Tetrazzini
*1 7 oz. pkg. spaghetti
*1/4 c. oleo
*1 can mushrooms, drained
*1 small onion, chopped
*1 1/2 tsp. lemon juice
*1/3 c. flour
*1 tsp. salt
*2 c. turkey broth
*1/2 c. dairy half & half
*2 1/2 c. cooked, cubed turkey
*1 c. bread crumbs
Cook spaghetti, breaking into 2″ pieces. Saute mushrooms and onion in oleo and lemon juice for 3-5 min. Stir in flour and salt. Cook over low heat until smooth and bubbly. Stir in turkey broth. Cook and stir until thick. Add half and half and turkey to broth mixture. Pour over spaghetti and mix well in 12x8x2 baking dish. Sprinkle with bread crumbs. Bake uncovered 25 to 30 min. Let stand 10 min. Serve.
More Recipes For You To Enjoy: