This recipe was clipped from a newspaper and is a promo for Armour Star Sliced Dried Turkey, date unknown. Recipe is typed below along with a scanned copy.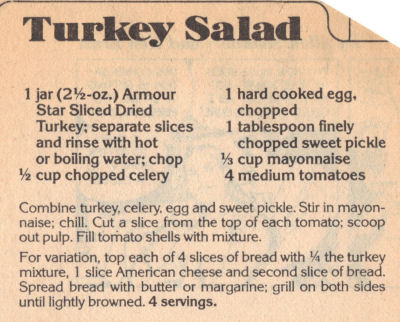 Turkey Salad
1 jar (2 1/2-oz.) Armour Star Sliced Dried Turkey; separate slices and rinse with hot or boiling water; chop
1/2 cup chopped celery
1 hard cooked egg, chopped
1 tablespoon finely chopped sweet pickle
1/3 cup mayonnaise
4 medium tomatoes
Combine turkey, celery, egg and sweet pickle. Stir in mayonnaise; chill. Cut a slice from the top of each tomato; scoop out pulp. Fill tomato shells with mixture.
For variation, top each of 4 slices of bread with 1/4 the turkey mixture, 1 slice American cheese and second slice of bread. Spread bread with butter or margarine; grill on both sides until lightly browned. 4 servings.
More Recipes For You To Enjoy: