This recipe was clipped from a newspaper and is probably a promo piece for Armour Star Sliced Dried Turkey since it's called for in the recipe. Recipe is typed below along with a scanned copy.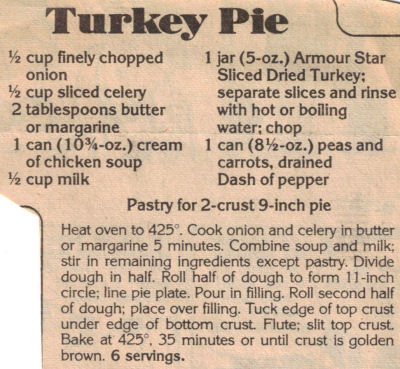 Turkey Pie
1/2 cup finely chopped onion
1/2 cup sliced celery
2 tablespoons butter or margarine
1 can (10 3/4-oz.) cream of chicken soup
1/2 cup milk
1 jar (5-oz.) Armour Star Sliced Dried Turkey; separate slices and rinse with hot or boiling water; chop
1 can (8 1/2-oz.) peas and carrots, drained
Dash of pepper
Pastry for 2-crust 9-inch pie
Heat oven to 425°. Cook onion and celery in butter or margarine 5 minutes. Combine soup and milk; stir in remaining ingredients except pastry. Divide dough in half. Roll half of dough to form 11-inch circle; line pie plate. Pour in filling. Roll second half of dough; place over filling. Tuck edge of top crust under edge of bottom crust. Flute; slit top crust. Bake at 425°, 35 minutes or until crust is golden brown. 6 servings.
More Recipes For You To Enjoy: