This promo recipe from French's was clipped from a newspaper and found in a large collection, date unknown. I've typed it below along with a scanned copy.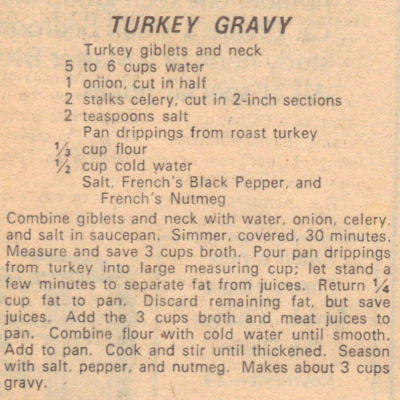 Turkey Gravy
Turkey giblets and neck
5 to 6 cups water
1 onion, cut in half
2 stalks celery, cut in 2-inch sections
2 teaspoons salt
Pan drippings from roast turkey
1/3 cup flour
1/2 cup cold water
Salt, French's Black Pepper and French's Nutmeg
Combine giblets and neck with water, onion, celery, and salt in saucepan. Simmer, covered, 30 minutes. Measure and save 3 cups broth. Pour pan drippings from turkey into large measuring cup; let stand a few minutes to separate fat from juices. Return 1/4 cup fat to pan. Discard remaining fat, but save juices. Add the 3 cups broth and meat juices to pan. Combine flour with cold water until smooth. Add to pan. Cook and stir until thickened. Season with salt, pepper, and nutmeg. Makes about 3 cups gravy.
More Recipes For You To Enjoy: