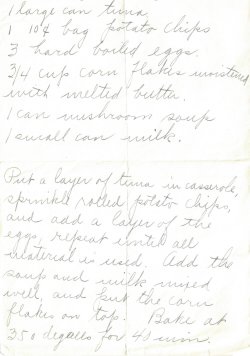 Cornflakes and potato chips, recipe may not be so old and vintage after all ;). Couldn't resist documenting though–it had me at the 10¢ bag of chips. Typed as-is.
Tuna Casserole
Serves – 6
1 large can tuna
1 10¢ bag potato chips
3 hard boiled eggs
3/4 cup corn flakes moistened with melted butter
1 can mushroom soup
1 small can milk
Put a layer of tuna in casserole, sprinkle rolled potato chips, and add a layer of the eggs, repeat until all material is used. Add the soup and milk mixed well, and put the corn flakes on top. Bake at 350° for 40 min.
More Recipes For You To Enjoy: