This is a handwritten recipe on a large index card (8″x5″) found in an old collection of recipes. Date unknown, typed as-is below.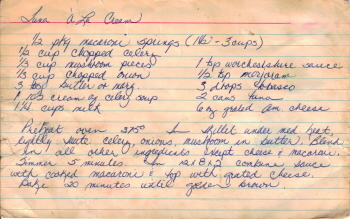 Tuna à la Cream
1/2 pkg macaroni springs (1 lb – 3 cups)
1/2 cup chopped celery
1/3 cup mushroom pieces
1/3 cup chopped onion
3 TBS butter or marg.
1 10 1/2 cream of celery soup
1 1/4 cups milk
1 tsp Worcestershire sauce
1/2 tsp marjoram
3 drops Tabasco
2 cans tuna
6 oz. grated Am. cheese
Preheat oven 375°. In skillet under med. heat, lightly saute celery, onions, mushroom in butter. Blend in all other ingredients except cheese & macaroni. Simmer 5 minutes. In 12x8x2 combine sauce with cooked macaroni & top with grated cheese. Bake 20 minutes until golden brown.
More Recipes For You To Enjoy: