This was printed on a promo recipe sheet from Pillsbury that was found in a large collection, date unknown. I've typed it below along with a scanned copy.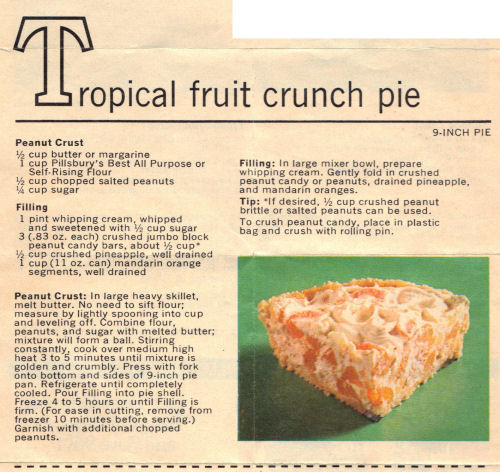 Tropical Fruit Crunch Pie
9-INCH PIE
Peanut Crust
1/2 cup butter or margarine
1 cup Pillsbury's Best All Purpose or Self-Rising Flour
1/2 cup chopped salted peanuts
1/4 cup sugar
Filling
1 pint whipping cream, whipped and sweetened with 1/2 cup sugar
3 (.83 oz. each) crushed jumbo block peanut candy bars, about 1/2 cup*
1/2 cup crushed pineapple, well drained
1 cup (11 oz. can) mandarin orange segments, well drained
Peanut Crust: In large heavy skillet, melt butter. No need to sift flour; measure by lightly spooning into cup and leveling off. Combine flour, peanuts, and sugar with melted butter; mixture will form a ball. Stirring constantly, cook over medium high heat 3 to 5 minutes until mixture is golden and crumbly. Press with fork onto bottom and sides of 9-inch pie pan. Refrigerate until completely cooled. Pour Filling into pie shell. Freeze 4 to 5 hours or until Filling is firm. (For ease in cutting, remove from freezer 10 minutes before serving.) Garnish with additional chopped peanuts.
Filling: In large mixer bowl, prepare whipping cream. Gently fold in crushed peanut candy or peanuts, drained pineapple, and mandarin oranges.
Tip: *If desired, 1/2 cup crushed peanut brittle or salted peanuts can be used.
To crush peanut candy, place in plastic bag and crush with rolling pin.
More Recipes For You To Enjoy: