This recipe was clipped from a magazine and was published around 1953 since it includes an offer for a cookbook that was available during that time. Recipe is typed below along with a scanned copy.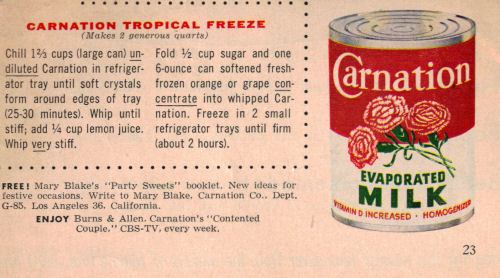 CARNATION TROPICAL FREEZE
(Makes 2 generous quarts)
Chill 1 2/3 cups (large can) undiluted Carnation in refrigerator tray until soft crystals form around edges of tray (25-30 minutes). Whip until stiff; add 1/4 cup lemon juice. Whip very stiff.
Fold 1/2 cup sugar and one 6-ounce can softened fresh-frozen orange or grape concentrate into whipped Carnation. Freeze in 2 small refrigerator trays until firm (about 2 hours).
More Recipes For You To Enjoy: