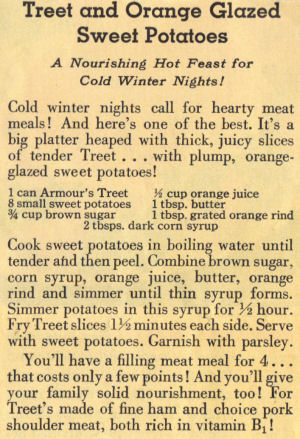 This recipe was clipped from a newspaper and found in a large collection, date unknown. It's a promo piece for Armour's Treet which is a canned meat. I've typed the recipe below along with a scanned copy.
Treet and Orange Glazed Sweet Potatoes
A Nourishing Hot Feast for Cold Winter Nights!
Cold winter nights call for hearty meat meals! And here's one of the best. It's a big platter heaped with thick, juicy slices of tender Treet…with plump, orange-glazed sweet potatoes!
1 can Armour's Treet
8 small sweet potatoes
3/4 cup brown sugar
1/2 cup orange juice
1 tbsp. butter
1 tbsp. grated orange rind
2 tbsps. dark corn syrup
Cook sweet potatoes in boiling water until tender and then peel. Combine brown sugar, corn syrup, orange juice, butter, orange rind and simmer until thin syrup forms. Simmer potatoes in this syrup for 1/2 hour. Fry Treet slices 1 1/2 minutes each side. Serve with sweet potatoes. Garnish with parsley.
You'll have a filling meat meal for 4 … that costs only a few points! And you'll give your family solid nourishment, too! For Treet's made of fine ham and choice pork shoulder meat, both rich in vitamin B1!
More Recipes For You To Enjoy: