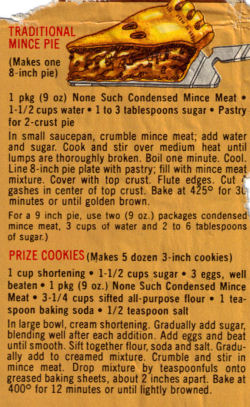 These recipes were clipped from packaging of some kind, likely from None Such Condensed Mince Meat since it's mentioned as an ingredient. You'll find both recipes typed below along with a scanned copy of the clipping. Date unknown.
TRADITIONAL MINCE PIE
(Makes one 8-inch pie)
1 pkg (9 oz) None Such Condensed Mince Meat
1-1/2 cups water
1 to 3 tablespoons sugar
Pastry for 2-crust pie
In small saucepan, crumble mince meat; add water and sugar. Cook and stir over medium heat until lumps are thoroughly broken. Boil one minute. Cool. Line 8-inch pie plate with pastry; fill with mince meat mixture. Cover with top crust. Flute edges. Cut 4 gashes in center of top crust. Bake at 425° for 30 minutes or until golden brown.
For a 9 inch pie, use two (9 oz.) packages condensed mince meat, 3 cups of water and 2 to 6 tablespoons of sugar.)
Here's a scan of the same recipe from a different label, this one was published in 1970 by BORDEN, INC. for None Such Mince Meat: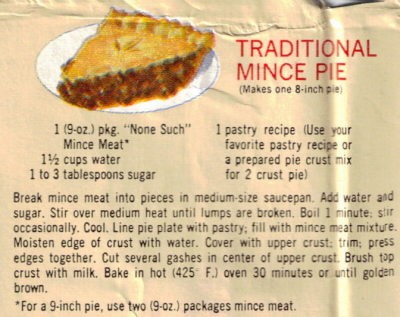 PRIZE COOKIES
(Makes 5 dozen 3-inch cookies)
1 cup shortening
1-1/2 cups sugar
3 eggs, well beaten
1 pkg (9 oz.) None Such Condensed Mince Meat
3-1/4 cups sifted all-purpose flour
1 teaspoon baking soda
1/2 teaspoon salt
In large bowl, cream shortening. Gradually add sugar, blending well after each addition. Add eggs and beat until smooth. Sift together flour, soda and salt. Gradually add to creamed mixture. Crumble and stir in mince meat. Drop mixture by teaspoonfuls onto greased baking sheets, about 2 inches apart. Bake at 400° for 12 minutes or until lightly browned.
More Recipes For You To Enjoy: