This recipe was printed on a promo slip for Durkee Famous Foods, date unknown. I've typed it below along with a scanned copy.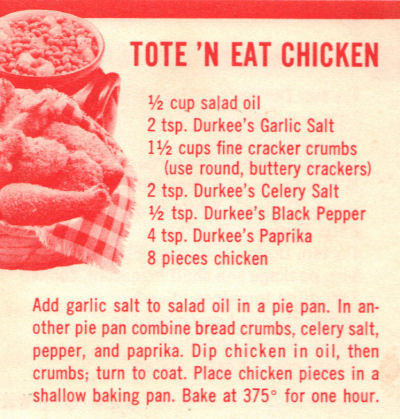 TOTE 'N EAT CHICKEN
1/2 cup salad oil
2 tsp. Durkee's Garlic Salt
1 1/2 cups fine cracker crumbs (use round, buttery crackers)
2 tsp. Durkee's Celery Salt
1/2 tsp. Durkee's Black Pepper
4 tsp. Durkee's Paprika
8 pieces chicken
Add garlic salt to salad oil in a pie pan. In another pie pan combine bread crumbs, celery salt, pepper, and paprika. Dip chicken in oil, then crumbs; turn to coat. Place chicken pieces in a shallow baking pan. Bake at 375° for one hour.
More Recipes For You To Enjoy: