This promo recipe from Treasure Cave was found in a large collection, date unknown. I've typed it out below along with a scanned copy.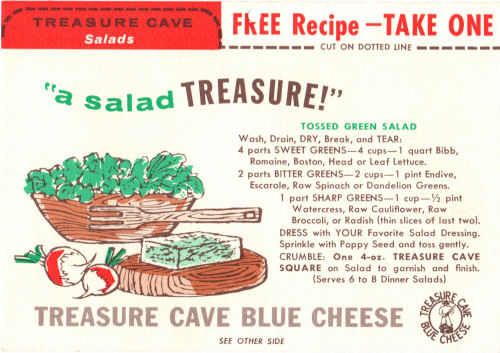 TOSSED GREEN SALAD
Wash, Drain, DRY, Break, and TEAR:
4 parts SWEET GREENS–4 cups—1 quart Bibb, Romaine, Boston, Head or Leaf Lettuce.
2 parts BITTER GREENS–2 cups–1 pint Endive, Escarole, Raw Spinach or Dandelion Greens.
1 part SHARP GREENS–1 cup–1/2 pint Watercress, Raw Cauliflower, Raw Broccoli, or Radish (thin slices of last two).
DRESS with YOUR Favorite Salad Dressing.
Sprinkle with Poppy Seed and toss gently.
CRUMBLE: One 4-oz. TREASURE CAVE SQUARE on Salad to garnish and finish.
(Serves 6 to 8 Dinner Salads)
TREASURE CAVE BLUE CHEESE
More Recipes For You To Enjoy: