This promo recipe from French's was clipped from a newspaper and found in a large collection, date unknown. I've typed it below along with a scanned copy.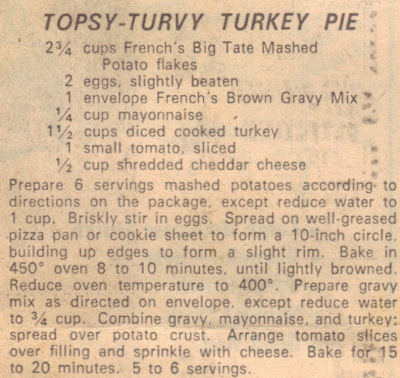 Topsy-Turvy Turkey Pie
2 3/4 cups French's Big Tate Mashed Potato flakes
2 eggs, slightly beaten
1 envelope French's Brown Gravy Mix
1/4 cup mayonnaise
1 1/2 cups diced cooked turkey
1 small tomato, sliced
1/2 cup shredded cheddar cheese
Prepare 6 servings mashed potatoes according to directions on the package, except reduce water to 1 cup. Briskly stir in eggs. Spread on well-greased pizza pan or cookie sheet to form a 10-inch circle, building up edges to form a slight rim. Bake in 450° oven 8 to 10 minutes, until lightly browned. Reduce oven temperature to 400°. Prepare gravy mix as directed on envelope, except reduce water to 3/4 cup. Combine gravy, mayonnaise, and turkey; spread over potato crust. Arrange tomato slices over filling and sprinkle with cheese. Bake for 15 to 20 minutes. 5 to 6 servings.
More Recipes For You To Enjoy: