This recipe was clipped from a newspaper and looks to be a promotional item for GW brand sugar, date unknown. Recipe is typed in full below along with a scanned copy.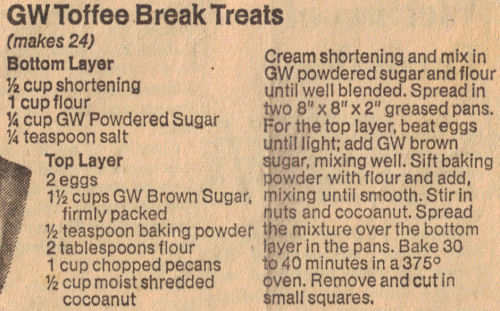 GW Toffee Break Treats
(makes 24)
Bottom Layer
1/2 cup shortening
1 cup flour
1/4 cup GW Powdered Sugar
1/4 teaspoon salt
Top Layer
2 eggs
1 1/2 cups GW Brown Sugar, firmly packed
1/2 teaspoon baking powder
2 tablespoons flour
1 cup chopped pecans
1/2 cup moist shredded cocoanut
Cream shortening and mix in GW powdered sugar and flour until well blended. Spread in two 8″x8″x2″ greased pans. For the top layer, beat eggs until light; add GW brown sugar, mixing well. Sift baking powder with flour and add, mixing until smooth. Stir in nuts and cocoanut. Spread the mixture over the bottom layer in the pans. Bake 30 to 40 minutes in a 375° oven. Remove and cut in ssmall squares.
More Recipes For You To Enjoy: