This recipe was clipped from a newspaper published in 1991. Recipe is typed below along with a scanned copy.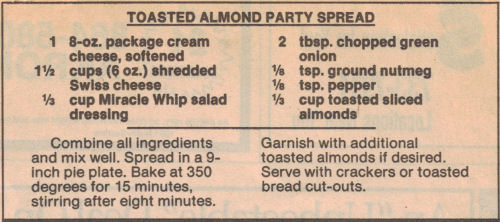 TOASTED ALMOND PARTY SPREAD
1 8-oz. package cream cheese, softened
1 1/2 cups (6 oz.) shredded Swiss cheese
1/3 cup Miracle Whip salad dressing
2 tbsp. chopped green onion
1/8 tsp. ground nutmeg
1/8 tsp. pepper
1/3 cup toasted sliced almonds
Combine all ingredients and mix well. Spread in a 9-inch pie plate. Bake at 350 degrees for 15 minutes, stirring after eight minutes.
Garnish with additional toasted almonds if desired. Serve with crackers or toasted bread cut-outs.
More Recipes For You To Enjoy: