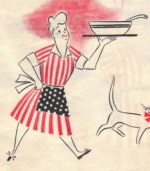 Here are pages 8, 9 and 10 of the WWII ration cookbook titled "Recipes For Today" that was published by General Foods Corporation in 1943. This was during the second world war when the United States was experiencing food rations and shortages (sugar, meat, etc.) and homemakers were looking for creative ways to feed their families.
You can view all the pages in this little book by visiting this category: Recipes For Today (WWII), just click a page title to view that section of the book. You'll find scans of the pages included below (click pictures to view a larger size) as well as a typed version for easy printing.
Thrift meats for dinner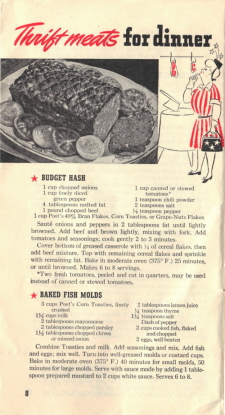 BUDGET HASH
1 cup chopped onions
1 cup finely diced green pepper
4 tablespoons melted fat
1 pound chopped beef
1 cup canned or stewed tomatoes*
1 teaspoon chili powder
2 teaspoons salt
1/8 teaspoon pepper
1 cup Post's 40% Bran Flakes, Corn Toasties, or Grape-Nuts Flakes
Sauté onions and peppers in 2 tablespoons fat until lightly browned. Add beef and brown lightly, mixing with fork. Add tomatoes and seasonings; cook gently 2 to 3 minutes.
Cover bottom of greased casserole with 1/3 of cereal flakes, then add beef mixture. Top with remaining cereal flakes and sprinkle with remaining fat. Bake in moderate oven (375° F.) 25 minutes, or until browned. Makes 6 to 8 servings.
*Two fresh tomatoes, peeled and cut in quarters, may be used instead of canned or stewed tomatoes.
BAKED FISH MOLDS
3 cups Post's Corn Toasties, finely crushed
1 1/2 cups milk
2 tablespoons mayonnaise
2 tablespoons chopped parsley
1 1/2 tablespoons chopped chives or minced onion
2 tablespoons lemon juice
1/4 teaspoon thyme
1 1/4 teaspoons salt
Dash of pepper
2 cups cooked fish, flaked and chopped
2 eggs, well beaten
Combine Toasties and milk. Add seasonings and mix. Add fish and eggs; mix well. Turn into well-greased molds or custard cups. Bake in moderate oven (375° F.) 40 minutes for small molds, 50 minutes for large molds. Serve with sauce made by adding 1 tablespoon prepared mustard to 2 cups white sauce. Serves 6 to 8.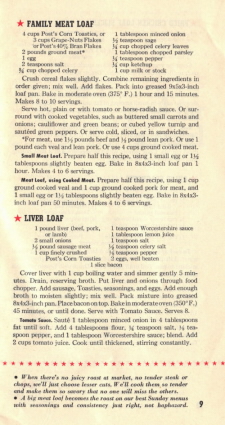 FAMILY MEAT LOAF
4 cups Post's Corn Toasties, or 3 cups Grape-Nuts Flakes or Post's 40% Bran Flakes
2 pounds ground meat*
1 egg
2 teaspoons salt
3/4 cup chopped celery
1 tablespoon minced onion
1/2 teaspoon sage
1/4 cup chopped celery leaves
1 tablespoon chopped parsley
1/4 teaspoon pepper
1/4 cup ketchup
1 cup milk or stock
Crush cereal flakes slightly. Combine remaining ingredients in order given; mix well. Add flakes. Pack into greased 9x5x3-inch loaf pan. Bake in moderate oven (375° F.) 1 hour and 15 minutes. Makes 8 to 10 servings.
Serve hot, plain or with tomato or horse-radish sauce. Or surround with cooked vegetables, such as buttered small carrots and onions; cauliflower and green beans; or cubed yellow turnip and sautéed green peppers. Or serve cold, sliced, or in sandwiches.
*For meat, use 1 1/2 pounds beef and 1/2 pound lean pork. Or use 1 pound each veal and lean pork. Or use 4 cups ground cooked meat.
Small Meat Loaf. Prepare half this recipe, using 1 small egg or 1 1/2 tablespoons slightly beaten egg. Bake in 8x4x3-inch loaf pan 1 hour. Makes 4 to 6 servings.
Meat Loaf, using Cooked Meat. Prepare half this recipe, using 1 cup ground cooked veal and 1 cup ground cooked pork for meat, and 1 small egg or 1 1/2 tablespoons slightly beaten egg. Bake in 8x4x3-inch loaf pan 50 minutes. Makes 4 to 6 servings.
LIVER LOAF
1 pound liver (beef, pork, or lamb)
2 small onions
1/2 pound sausage meat
1 cup finely crushed Post's Corn Toasties
1 teaspoon Worcestershire sauce
1 tablespoon lemon juice
1 teaspoon salt
1/2 teaspoon celery salt
1/8 teaspoon pepper
2 eggs, well beaten
1 slice bacon
Cover liver with 1 cup boiling water and simmer gently 5 minutes. Drain, reserving broth. Put liver and onions through food chopper. Add sausage, Toasties, seasonings, and eggs. Add enough broth to moisten slightly; mix well. Pack mixture into greased 8x4x3-inch pan. Place bacon on top. Bake in moderate oven (350° F.) 45 minutes, or until done. Serve with Tomato Sauce. Serves 8.
Tomato Sauce. Sauté 1 tablespoon minced onion in 4 tablespoons fat until soft. Add 4 tablespoons flour, 1/4 teaspoon salt, 1/8 teaspoon pepper, and 1 tablespoon Worcestershire sauce; blend. Add 2 cups tomato juice. Cook until thickened, stirring constantly.
When there's no juicy roast at market, no tender steak or chops, we'll just choose lesser cuts. We'll cook them so tender and make them so savory that no one will miss the others.
A big meat loaf becomes the roast on our best Sunday menus with seasonings and consistency just right, not haphazard.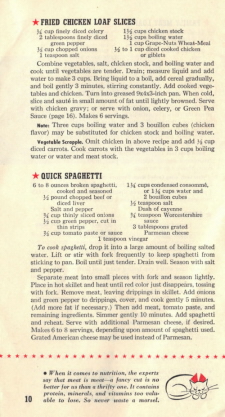 FRIED CHICKEN LOAF SLICES
1/4 cup finely diced celery
2 tablespoons finely diced green pepper
1/3 cup chopped onions
1 teaspoon salt
1 1/2 cups chicken stock
1 1/2 cups boiling water
1 cup Grape-Nuts Wheat-Meal
1/2 to 1 cup diced cooked chicken or giblets
Combine vegetables, salt, chicken stock, and boiling water and cook until vegetables are tender. Drain; measure liquid and add water to make 3 cups. Bring liquid to a boil, add cereal gradually, and boil gently 3 minutes, stirring constantly. Add cooked vegetables and chicken. Turn into greased 9x4x3-inch pan. When cold, slice and sauté in small amount of fat until lightly browned. Serve with chicken gravy; or serve with onion, celery, or Green Pea Sauce (page 16). Makes 6 servings.
Note: Three cups boiling water and 3 bouillon cubes (chicken flavor) may be substituted for chicken stock and boiling water.
Vegetable Scrapple. Omit chicken in above recipe and add 1/2 cup diced carrots. Cook carrots with the vegetables in 3 cups boiling water or water and meat stock.
QUICK SPAGHETTI
6 to 8 ounces broken spaghetti, cooked and seasoned
1/2 pound chopped beef or diced liver
Salt and pepper
3/4 cup thinly sliced onions
1/2 cup green pepper, cut in thin strips
2/3 cup tomato paste or sauce
1 1/4 cups condensed consommé, or 1 1/4 cups water and 2 bouillon cubes
1/2 teaspoon salt
Dash of cayenne
3/4 teaspoon Worcestershire sauce
3 tablespoons grated Parmesan cheese
1 teaspoon vinegar
To cook spaghetti, drop it into a large amount of boiling salted water. Lift or stir with fork frequently to keep spaghetti from sticking to pan. Boil until just tender. Drain well. Season with salt and pepper.
Separate meat into small pieces with fork and season lightly. Place in hot skillet and heat until red color just disappears, tossing with fork. Remove meat, leaving drippings in skillet. Add onions and green pepper to drippings, cover, and cook gently 5 minutes. (Add more fat if necessary.) Then add meat, tomato paste, and remaining ingredients. Simmer gently 10 minutes. Add spaghetti and reheat. Serve with additional Parmesan cheese, if desired. Makes 6 to 8 servings, depending upon amount of spaghetti used. Grated American cheese may be used instead of Parmesan.
When it comes to nutrition, the experts say that meat is meat–a fancy cut is no better for us than a thrifty one. It contains protein, minerals, and vitamins too valuable to lose. So never waste a morsel.
More Recipes For You To Enjoy: