This recipe was clipped from a newspaper, date unknown. Recipe is typed below along with a scanned copy.
Please make sure to read this page before trying this recipe.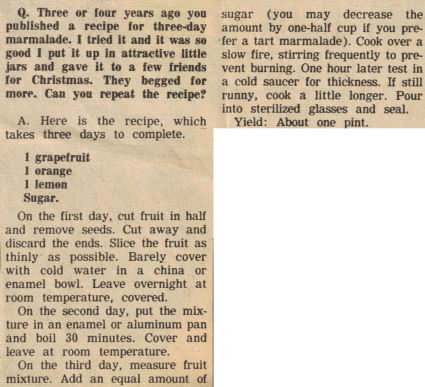 Q. Three or four years ago you published recipe for three-day marmalade. I tried it and it was so good I put it up in attractive little jars and gave it to a few friends for Christmas. They begged for more. Can you repeat the recipe?
A. Here is the recipe, which takes three days to complete.
1 grapefruit
1 orange
1 lemon
Sugar.
On the first day, cut fruit in half and remove seeds. Cut away and discard the ends. Slice the fruit as thinly as possible. Barely cover with cold water in a china or enamel bowl. Leave overnight at room temperature, covered.
On the second day, put the mixture in an enamel or aluminum pan and boil 30 minutes. Cover and leave at room temperature.
On the third day, measure fruit mixture. Add an equal amount of sugar (you may decrease the amount by one-half cup if you prefer a tart marmalade). Cook over a slow fire, stirring frequently to prevent burning. One hour later test in a cold saucer for thickness. If still runny, cook a little longer. Pour into sterilized glasses and seal.
Yield: About one pint.
More Recipes For You To Enjoy: