Here's an old clipping for a cheese ball recipe. No date. Recipe follows below: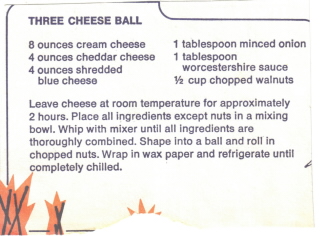 Three Cheese Ball
8 ounces cream cheese
4 ounces cheddar cheese
4 ounces shredded blue cheese
1 tablespoon minced onion
1 tablespoon worcestershire sauce
1/2 cup chopped walnuts
Leave cheese at room temperature for approximately 2 hours. Place all ingredients except nuts in a mixing bowl. Whip with mixer until all ingredients are thoroughly combined. Shape into a ball and roll in chopped nuts. Wrap in wax paper and refrigerate until completely chilled.
More Recipes For You To Enjoy: