This is a handwritten recipe card found in a large collection of recipes that were mainly from the 1970s through to the 1990s. There are a few abbreviations in this recipe but I think it's pretty clear. The # symbol represents "pound" in some places. Recipe is typed below pretty much as-is although I did add a few commas for easier reading. There's also a scanned copy that you can click to view larger if you like.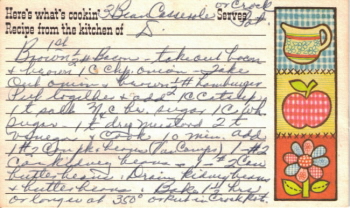 3 Bean Casserole or Crock Pot
1st Brown 1/2# Bacon – take out bacon & brown 1 C chp. onion – Take out onion & brown 1/2# hamburger. Put together and add 1 C catsup, 1 t salt, 3/4 C br. sugar, 1 C wh. sugar, 1 t dry mustard, 2 t. vinegar & cook 10 min. Add 1 #2 can pk & beans (VanCamps), 1 – #2 can kidney beans & 1-#2 can butter beans. Drain kidney beans and butter beans. Bake 1 1/2 hrs or longer at 350° or put in crock pot.
More Recipes For You To Enjoy: