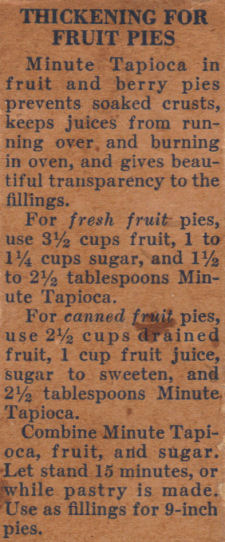 This promo recipe was clipped from a box of Minute Tapioca and found in a large collection, date unknown. I've type it below along with a scanned copy.
THICKENING FOR FRUIT PIES
Minute Tapioca in fruit and berry pies prevents soaked crusts, keeps juices from running over and burning in oven, and gives beautiful transparency to the fillings.
For fresh fruit pies, use 3 1/2 cups fruit, 1 to 1 1/4 cups sugar, and 1 1/2 to 2 1/2 tablespoons Minute Tapioca.
For canned fruit pies, use 2 1/2 cups drained fruit, 1 cup fruit juice, sugar to sweeten, and 2 1/2 tablespoons Minute Tapioca.
Combine Minute Tapioca, fruit, and sugar. Let stand 15 minutes, or while pastry is made.
Use as fillings for 9-inch pies.
More Recipes For You To Enjoy: