This is a recipe clipping from a magazine, date unknown. You'll find the recipe posted underneath the picture.
Before using this recipe, it's important to read this page, the "Safe Canning & Food Preservation" section.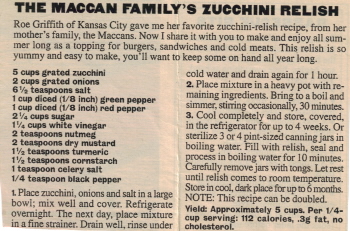 Roe Griffith of Kansas City gave me her favorite zucchini-relish recipe, from her mother's family, the Maccans. Now I share it with you to make and enjoy all summer long as a topping for burgers, sandwiches and cold meats. This relish is so yummy and easy to make, you'll want to keep some on hand all year long.
The Maccan Family's Zucchini Relish
5 cups grated zucchini
2 cups grated onions
6 1/2 teaspoons salt
1 cup diced (1/8 inch) green pepper
1 cup diced (1/8 inch) red pepper
2 1/4 cups sugar
1 1/4 cups white vinegar
2 teaspoons nutmeg
2 teaspoons dry mustard
1 1/2 teaspoons turmeric
1 1/2 teaspoons cornstarch
1 teaspoon celery salt
1/4 teaspoon black pepper
Place zucchini, onions and salt in a large bowl; mix well and cover. Refrigerate overnight. The next day, place mixture in a fine strainer. Drain well, rinse under cold water and drain again for 1 hour.
Place mixture in a heavy pot with remaining ingredients. Bring to a boil and simmer, stirring occasionally, 30 minutes.
Cool completely and store, covered, in the refrigerator for up to 4 weeks. Or sterilize 3 or 4 pint-sized canning jars in boiling water. Fill with relish, seal and process in boiling water for 10 minutes. Carefully remove jars with tongs. Let rest until relish comes to room temperature. Store in cool, dark place for up to 6 months.
NOTE: This recipe can be doubled.
Yield: Approximately 5 cups
More Recipes For You To Enjoy: