This promo recipe from Spice Islands was found in a large collection, date unknown. I've typed it below along with a scanned copy.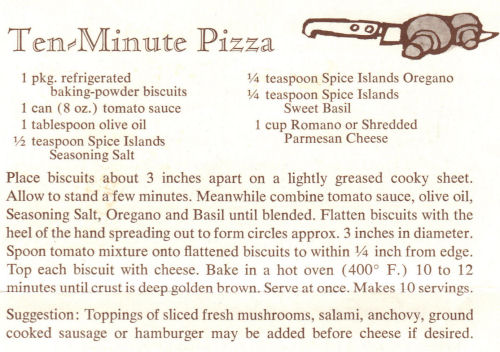 Ten-Minute Pizza
1 pkg. refrigerated baking-powder biscuits
1 can (8 oz.) tomato sauce
1 tablespoon olive oil
1/2 teaspoon Spice Islands Seasoning Salt
1/4 teaspoon Spice Islands Oregano
1/4 teaspoon Spice Islands Sweet Basil
1 cup Romano or Shredded Parmesan Cheese
Place biscuits about 3 inches apart on a lightly greased cooky sheet. Allow to stand a few minutes. Meanwhile combine tomato sauce, olive oil, Seasoning Salt, Oregano and Basil until blended. Flatten biscuits with the heel of the hand spreading out to form circles approx. 3 inches in diameter. Spoon tomato mixture onto flattened biscuits to within 1/4 inch from edge. Top each biscuit with cheese. Bake in a hot oven (400° F.) 10 to 12 minutes until crust is deep golden brown. Serve at once. Makes 10 servings.
Suggestion: Toppings of sliced fresh mushrooms, salami, anchovy, ground cooked sausage or hamburger may be added before cheese if desired.
More Recipes For You To Enjoy: