Here's an old sweetie of a recipe clipped from a magazine, date unknown but I believe it would be 1950s or maybe even 1960s era. This was found in a box stuffed with old recipes and clippings.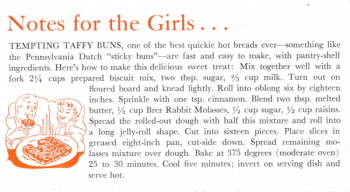 Notes for the Girls . . .
TEMPTING TAFFY BUNS, one of the best quickie hot breads ever–something like the Pennsylvania Dutch "sticky buns"–are fast and easy to make, with pantry-shelf ingredients. Here's how to make this delicious sweet treat: Mix together well with a fork 2 1/4 cups prepared biscuit mix, two tbsp. sugar, 2/3 cup milk. Turn out on floured board and knead lightly. Roll into oblong six by eighteen inches. Sprinkle with one tsp. cinnamon. Blend two tbsp. melted butter, 1/2 cup Brer Rabbit Molasses, 1/2 cup sugar, 1/2 cup raisins. Spread the rolled-out dough with half this mixture and roll into a long jelly-roll shape. Cut into sixteen pieces. Place slices in greased eight-inch pan, cut-side down. Spread remaining molasses mixture over dough. Bake at 375 degrees (moderate oven) 25 to 30 minutes. Cool five minutes; invert on serving dish and serve hot.
More Recipes For You To Enjoy: