This recipe comes from a promo recipe sheet by Mazola Oil titled "National Chicken Cooking Contest Winning Recipes". This was found in a large collection, date unknown. Recipe is typed below along with a scanned copy.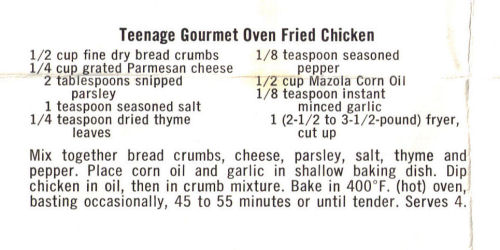 Teenage Gourmet Oven Fried Chicken
1/2 cup fine dry bread crumbs
1/4 cup grated Parmesan cheese
2 tablespoons snipped parsley
1 teaspoon seasoned salt
1/4 teaspoon dried thyme leaves
1/8 teaspoon seasoned pepper
1/2 cup Mazola Corn Oil
1/8 teaspoon instant minced garlic
1 (2-1/2 to 3-1/2-pound) fryer, cut up
Mix together bread crumbs, cheese, parsley, salt, thyme and pepper. Place corn oil and garlic in shallow baking dish. Dip chicken in oil, then in crumb mixture. Bake in 400°F. (hot) oven, basting occasionally, 45 to 55 minutes or until tender. Serves 4.
More Recipes For You To Enjoy: