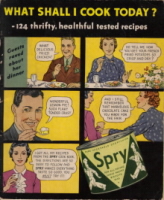 This is page 20 of the vintage cookbook "What Shall I Cook Today" that was published by Spry Vegetable Shortening in 1935. This is the "Tarts" Recipe Section.
To review all recipes and pages in this cookbook, simply visit the Spry: What Shall I Cook Today? Category and click on a page title to review that section. There are scans available of each page, just click the images to view a full size copy.
TARTS
Lemon Fluff Tarts
Light and delicate as a summer cloud.
1 tablespoon cornstarch
1/2 cup sugar
1/8 teaspoon salt
4 egg yolks, slightly beaten
1/4 cup hot water
1 lemon (grated rind and juice)
1/2 cup sugar
4 egg whites, stiffly beaten
For making baked tart shells, see recipe for Tart Shells and Patties (page 19) . . . Mix cornstarch, 1/2 cup sugar, salt, slightly beaten egg yolks, and water, and cook over hot water until thick (about 10 minutes), stirring constantly . . . Remove from fire, add lemon rind and juice, and cool slightly . . . Add 1/2 cup sugar gradually to beaten egg whites, beating constantly. Fold one-half into lemon mixture and pour into baked tart shells. Pile remaining meringue lightly on top of tarts and bake in slow oven (325°F.) 15 minutes, or until delicately browned. Makes 6.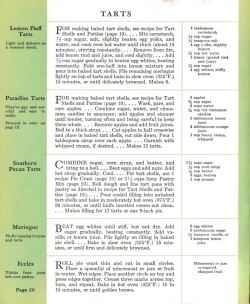 Paradise Tarts
They're gay and colorful and easy to make.
6 apples
3/4 cup sugar
2 cups water
1/4 cup red cinnamon candies
1 tablespoon lemon juice
4 tablespoons orange juice
1 cup heavy cream, whipped
For making baked tart shells, see recipe for Tart Shells and Patties (page 19) . . . Wash, pare, and core apples . . . Combine sugar, water, and cinnamon candies in saucepan; add apples and simmer until tender, turning often and being careful to keep them whole . . . Remove apples and add fruit juices. Boil to a thick sirup . . . Cut apples in half crosswise and place in baked tart shells, cut side down. Pour 1 tablespoon sirup over each apple . . . Garnish with whipped cream, if desired . . . Makes 12 tarts.
Southern Pecan Tarts
1 1/4 cups sugar
1/2 cup corn sirup
1/4 cup butter
3 eggs, beaten
1 cup pecans
Combine sugar, corn sirup, and butter, and bring to a boil . . . Beat eggs and add nuts. Add hot sirup gradually. Cool . . . For tart shells, use 1 recipe Pie Crust (page 13) or 2 1/2 cups Spry Pastry Mix (page 23). Roll dough and line tart pans with pastry as directed in recipe for Tart Shells and Patties (page 19) . . . Pour cooled filling into unbaked tart shells and bake in moderately hot oven (375°F.) 30 minutes, or until knife inserted comes out clean . . . Makes filling for 12 tarts or one 9-inch pie.
Meringue
Fluffy topping for pies and tarts.
2 egg whites
6 tablespoons sugar
1/2 teaspoon vanilla or 1 teaspoon lemon juice
Beat egg whites until stiff, but not dry. Add sugar gradually, beating constantly. Add vanilla or lemon juice. Pile lightly on filling in baked pie shell . . . Bake in slow oven (325°F.) 15 minutes, or until firm and delicately browned.
Eccles
Titbits from your left-over pastry.
Mincemeat or jam or sugared, chopped fruit
Roll pie crust thin and cut in small circles. Place a spoonful of mincemeat or jam or fruit in center. Wet edges. Place another circle on top and press edges together. Crease three marks across top, turn, and repeat. Bake in hot oven (425°F.) 10 to 15 minutes, or until golden brown.
More Recipes For You To Enjoy: