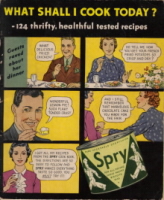 This is page 19 of the vintage cookbook "What Shall I Cook Today" that was published by Spry Vegetable Shortening in 1935. This is the "Tarts And Patties" Recipe Section.
To review all recipes and pages in this cookbook, simply visit the Spry: What Shall I Cook Today? Category and click on a page title to review that section. There are scans available of each page, just click the images to view a full size copy.
TARTS AND PATTIES
Tart Shells and Patties
2 1/2 cups sifted flour
1 teaspoon salt
3/4 cup Spry
5 tablespoons cold water (about)
If using Spry Pastry Mix, use 2 1/2 cups of the mix, see page 23.
Sift flour with salt . . . Cut in 1/2 of Spry until mixture looks like meal. Add remaining Spry and continue cutting until particles are size of navy bean . . . Add water gradually and mix lightly with fork into dough . . . Roll dough 1/8-inch thick on floured board . . . Cut in 5-inch rounds and fit into patty pans or over outside of muffin pans . . . Bake in very hot oven (450°F.) 10 to 15 minutes . . . Makes 12 tart shells.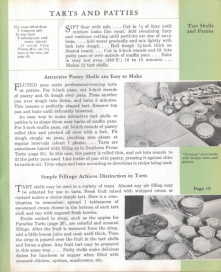 Attractive Pastry Shells are Easy to Make
Fluted pans make professional-looking tarts or patties. For 3-inch pans, cut 5-inch rounds of pastry and fit dough over pans. Press another pan over dough into flutes, and bake 5 minutes. This insures a perfectly shaped tart. Remove top pan and bake until delicately browned.
An easy way to make attractive tart shells or patties is to shape them over backs of muffin pans. For 3-inch muffin pans, cut 5-inch rounds of pastry rolled thin and pricked all over with a fork. Fit dough snugly on pans, pinching into pleats at regular intervals (about 7 pleats) . . . Tarts are sometimes baked with filling as in Southern Pecan Tarts (page 20). In this case the pastry is rolled thin, and cut into rounds to fit the patty pans used. Line inside of pan with pastry, pressing it against sides to exclude air. Trim edges and bake according to directions in recipe being used.
"Dressup" your meals with dainty tarts and patties.
Simple Fillings Achieve Distinction in Tarts
Tart shells may be used in a variety of ways. Almost any pie filling may be adapted for use in tarts. Fresh fruit mixed with whipped cream or custard makes a choice simple tart. Here is a combination to remember: spread 1 tablespoon of sweetened cream cheese in the bottom of each tart shell and top with sugared fresh berries.
Fruits cooked in sirup, such as the apples for Paradise Tarts (page 20), are colorful and unusual fillings. After the fruit is removed from the sirup, add a little lemon juice and cook until thick. Then the sirup is poured over the fruit in the tart shells and forms a glaze. Any fruit tart may be prepared in this same way . . . Patty shells make delicious dishes for luncheon or supper when filled with creamed chicken, oysters, mushrooms, etc.
More Recipes For You To Enjoy: