This recipe was clipped from a newspaper, date unknown. The recipe is typed below along with a scanned copy that you can click to view larger if you like.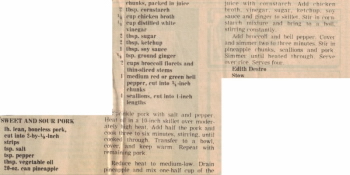 SWEET AND SOUR PORK
1 lb. lean, boneless pork, cut into 2-by-1/8-inch strips
1/4 tsp. salt
1/4 tsp. pepper
2 tbsp. vegetable oil
1 20-oz. can pineapple chunks, packed in juice
2 tbsp. cornstarch
1/4 cup chicken broth
1/4 cup distilled white vinegar
2 tbsp. sugar
2 tbsp. ketchup
1 tbsp. soy sauce
1/4 tsp. ground ginger
2 cups broccoli florets and thin-sliced stems
1 medium red or green bell pepper, cut into 3/4-inch chunks
1 scallions, cut into 1-inch lengths
Sprinkle pork with salt and pepper. Heat oil in a 10-inch skillet over moderately high heat. Add half the pork and cook three to six minutes, stirring, until cooked through. Transfer to a bowl, cover, and keep warm. Repeat with remaining pork.
Reduce heat to medium-low. Drain pineapple and mix one-half cup of the juice with cornstarch. Add chicken broth, vinegar, sugar, ketchup, soy sauce and ginger to skillet. Stir in cornstarch mixture and bring to a boil, stirring constantly.
Add broccoli and bell pepper. Cover and simmer two to three minutes. Stir in pineapple chunks, scallions and pork. Simmer until heated through. Serve over rice. Serves four.
Edith Destro
Stow
More Recipes For You To Enjoy: