This recipe was written on a lined index card and found in a large collection, date unknown. I've typed it below along with a scanned copy.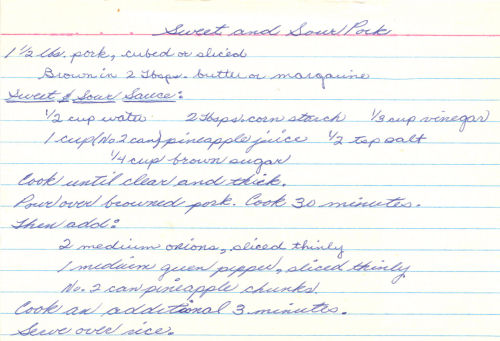 Sweet and Sour Pork
1 1/2 lbs. pork, cubed or sliced
Brown in 2 Tbsps. butter or margarine
Sweet & Sour Sauce:
1/2 cup water
2 Tbsps corn starch
1/3 cup vinegar
1 cup (no. 2 can) pineapple juice
1/2 tsp salt
1/4 cup brown sugar
Cook until clear and thick.
Pour over browned pork. Cook 30 minutes.
Then add:
2 medium onions, sliced thinly
1 medium green pepper, sliced thinly
No. 2 can pineapple chunks
Cook an additional 3 minutes.
Serve over rice.
More Recipes For You To Enjoy: