This little clipping is from a magazine, date unknown and looks to be from the California Raisin Advisory Board. Recipe is typed below along with a scanned copy.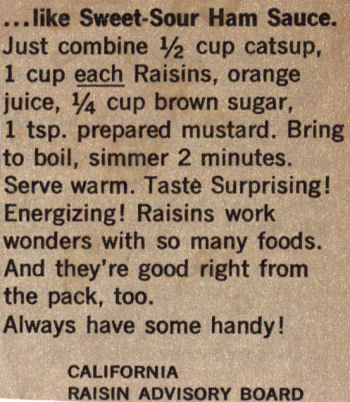 …like Sweet-Sour Ham Sauce.
Just combine 1/2 cup catsup, 1 cup each Raisins, orange juice, 1/4 cup brown sugar, 1 tsp. prepared mustard. Bring to boil, simmer 2 minutes.
Serve warm. Taste Surprising! Energizing! Raisins work wonders with so many foods. And they're good right from the pack, too.
Always have some handy!
CALIFORNIA
RAISIN ADVISORY BOARD
More Recipes For You To Enjoy: